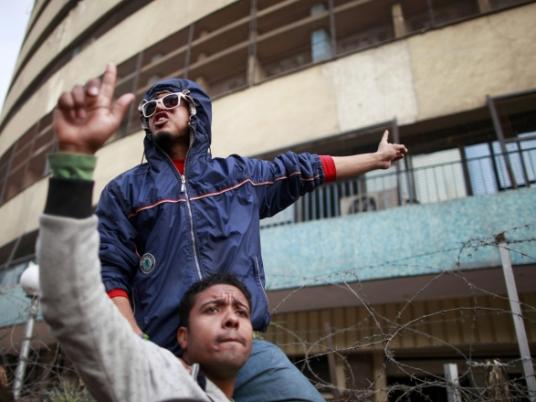 Minister of Information Salah Abdel Maqsoud has decided to cancel all talk shows on Egyptian state television, instead controlling all content from a central broadcasting room for the ongoing 30 June protests.
The minister has delegated special powers to presidential adviser Ahmed Abdel Aziz, Nile News chief news bulletin editor Yasser al-Dakkany and news programming general manager Badr al-Shafie, allowing them to give instructions to Maspero leadership to control how the news is reported.
Abdel Maqsoud reportedly gave instructions to focus on Islamists rallies at Rabaa al-Adaweyah Square in Nasr City, where supporters of President Mohamed Morsy are holding their sit-in.
The information minister has cancelled the People of Egypt (Ahl Masr in Arabic) programme, which is broadcast daily on the state-run Egyptian satellite channel.
Sherif al-Gammal, the show's director, said the minister made his decision after discovering who would be appearing on the programme.
People of Egypt guests included Egyptian Social Democratic Party leader Farid Zahran, Islamic thinker Hassan Kamal and Tamarod ("rebellion") campaigner Maha Abu Bakr.
Free Egyptians Party spokesperson Shehab Wagih, National Salvation Front member Wael Nawwarah and Conscience Front member Mohamed Sharaf were also booked to attend.
Gammal added that the minister has restricted political shows to news bulletins and reports from correspondents only, in attempts to to filter out undesirable content. He has also allocated five outside broadcast vehicles to follow protests in Rabaa al-Adaweyah, each costing US$5,000 a day.
Hassan Aly, a member of the board of directors of the Free Media Zone, said all private satellite channels were warned of closure if they disseminate false news or make violations.
The Egyptian Organisation for Human Rights criticised the warning, saying it is a violation of the constitution which aims to uphold freedom of expression.
Meanwhile, four helicopters hovered over the Egyptian Media Production City (EMPC) on Sunday after news circulated that supporters of Hazem Salah Abou Ismail were planning to besiege it. EMPC chief Hassan Hamed allowed employees to leave early while dozens of Central Security trucks and police vehicles were on hand to protect the building.
Edited translation from Al-Masry Al-Youm