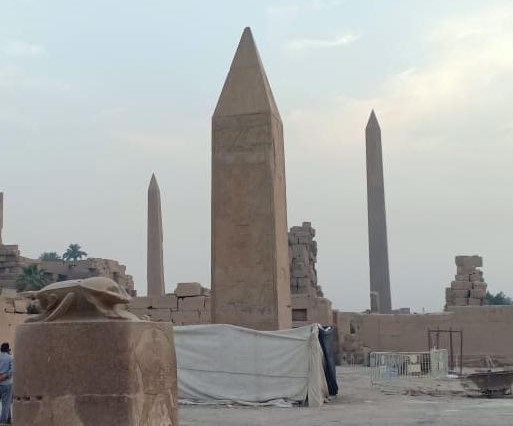 A team of archaeologists, restorers and engineers of the Supreme Council of Antiquities managed to restore and erect the obelisk of Queen Hatshepsut, lying near the Sacred Lake in the Karnak temples.
The Secretary-General of the Supreme Council of Antiquities, Mostafa Waziri, said that the process of erecting the obelisk came within the framework of the restoration and development work of archaeological sites in Luxor.
He pointed out that the studies conducted on the obelisk proved that its lying position in its current location may negatively affect its safety over time, so it had to be restored and re-erected.
Waziri confirmed that the process of restoring and erecting the obelisk was carried out after the approval of the Permanent Committee of Egyptian Antiquities.
This is achieved in cooperation with the Engineering Authority of the Armed Forces in using the necessary equipment to raise and erect the obelisk, according to the latest followed scientific methods.
The obelisk carved from pink granite and sits at 11 meters high and weighs about 90 tons.
It is decorated with inscriptions depicting Queen Hatshepsut and her relationship with the god Amun.
It also has an inscription of the scenes and names of the god Amun.
The obelisk had fallen in ancient times, perhaps as a result of a devastating earthquake that swept the country, and its remains were left on top of the rubble accumulated above The Wadjet Hall, which was set up by King Thutmose I, father of Queen Hatshepsut.
At the beginning of the 20th century the French archaeologist Georges Legrain moved the upper part of it, and placed it lying in its current place near the Sacred Lake, in order to be able to remove the rubble that covered the columns, statues and walls of this part of the temple.