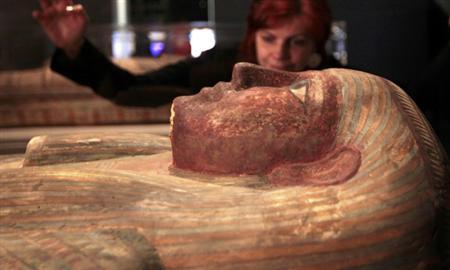 The Egyptian Embassy in Madrid has managed to restore Egyptian relics smuggled into Spain by an international gang in 1999.
The Spanish government sent the embassy a letter on Saturday asking it to set a date to hand over the relics, according to a statement issued by the Foreign Ministry on Sunday
It said the Egyptian Embassy learned in September 2010 that Barcelona police had confiscated eight pharaonic relics that were in the possession of traffickers.
The embassy immediately sent a memorandum to the Spanish government to assert Egypt's right to the relics and demanded to be informed how the artifacts first left Egypt.
In coordination with the Supreme Council of Antiquities, the Egyptian Embassy in Spain sent an Egyptian expert to write a report on the artifacts.
The relics were found to be authentic pharaonic relics, Egyptian Ambassador to Spain Ayman Zein Eddin said.
The relics are made of limestone and belong to the 6th Dynasty. They were originally discovered in the Saqqara area in Giza and are said to have been smuggled out of Egypt in 1999, he said.
Egypt based its demand to retrieve the artifacts on the 1970 Convention for the fight against the illicit trafficking of cultural property and the United Nations Convention against Corruption.
Translated from Al-Masry Al-Youm