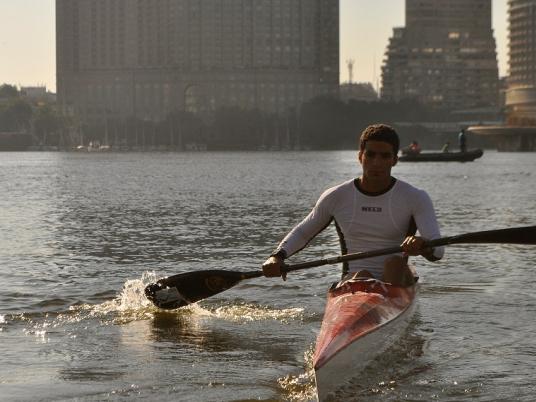 With water rushing under him, Mustafa Saeid paddles up the Nile, putting stretches of the Manial banks behind him. Arcs of droplets sail off his blades as he alternates between port and starboard on an invisible axis.
There's peace to be found here on the river at 7 am, when traffic noises fade into the background of an early morning workout.
But inside, Saeid is churning. Both on and off the water, the Olympic-bound kayaker hears the voices of all those who have told him, "You can't."
Frustrated with the lack of support, he was ready to give up the sport for good this spring before being granted an unexpected, last-minute Olympic bid.
As he paddles through one of his self-designed practices, this athlete has precious little time left to steel mind and body for the London games. He will be the first to represent Egypt in the sport at the Olympics, but he's not expecting to be celebrated, or even to be supported by his country.
"Before six years ago, no one knew kayaking in Egypt," the 23-year-old says.
He says no acclaim comes with the medals the national team wins.
"When someone asks 'What is kayak?' we get sad, because it's a really interesting sport and no one knows it in Egypt," Saeid says.
Humble beginnings
The day Saied stumbled across the Cairo University rowing club "was the first day of my second life," he says.
After a short stint rowing crew in 2007, it was jealousy that pushed him into a kayak. Seeing his friends mess around in the boats, he quickly switched sports and realized kayaking better suited his smaller physique.
It wasn't long before he became competitive, racing in regattas in Alexandria and raising objections at home. Saeid's older brother and sister had not played sports and his parents worried that as an athlete his studies would suffer. They rejected the idea of him kayaking, but he proved he could maintain good grades even while missing class for races.
"So there is nothing called the impossible," says Saeid, a graduate of the Cairo University Faculty of Commerce.
When the International Canoe Federation, the nonprofit body that governs canoe and kayak racing, found out about the small, unorganized band of Egyptian kayakers, it helped them form a national team.
The federation also sponsored Saied to attend training camps in Europe, where he met coaches who would later help him when he had no one to consult back home.
The surprise Olympic dream
More often faced with discouragement, Saeid was surprised by the faith Magdy Affify, a local rowing federation official, expressed in his talent. Affify was the first to tell him he should sign up for an Olympic qualifying race.
"I said, 'Maybe you are kidding, because how can I do that with just a paddle and a boat? Even the [Nile] water is not good for training,'" Saied responded.
Affiy's answer: "Just try, and leave it to God."
Despite his competitive successes at home and abroad, Saied was frustrated by the national team's lack of preparation. Most of the time, he says, the team only practiced together for a month or two ahead of major regattas, and local races were all crammed between January and April, with a long off-season. He has also been training for four years without a coach.
After a second-place finish at the 2012 Africa championships, he decided to race for the last time in Alexandria in April.
"It's not working anymore," he thought.
But as he prepared for his final regatta, a letter came. It told him the South African rower who beat him out for first place at the championships had withdrawn, and suddenly, less than four months before the Olympics, everything changed.
Since then, he's been training 10 to 12 times a week as part of a program he designed himself. He has no coach and no sophisticated training facility — just a few fellow kayakers for motivation and a ramshackle boathouse where some of the equipment is older than he is.
The press spokesperson for the Egyptian Olympic Committee said he was not aware of the technical details and could not comment on the backing individual athletes have received.
Saied says the Egypt Canoeing Federation has been less than supportive. Calls for comment to federation headquarters went unanswered.
"They said I can do nothing in the Olympics," he says, dismissing the federation as he has other detractors.
But it's not hard to see they've made a deep impression.
When asked what it takes to be at the top of his game, it's not training, skill or raw talent he cites, but a mindset.
"Just forget what people are saying about you, because here in Egypt, a lot of people say you can't, but we can. The proof of that is I qualified for the Olympics, and it's the best for any athlete in any sport. So just focus on your training and just do it," he says.
Saied will become the first Egyptian kayaker ever to race in the games, with about 35 seconds to prove himself on the water. His event, the 200-meter sprint, is also making its Olympic debut this year.
He'll line up at the Eaton Dorney course on 10 August against many larger, better-funded and better-trained competitors, but with the unshakable courage of all the great underdogs.
"My name is going to be in the history for sure … so it's a great feeling, and I can't explain it but I'm so happy for that."