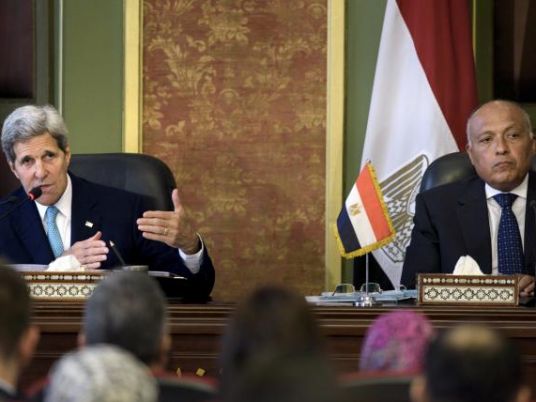 The first day of Foreign Minister Sameh Shoukri's visit to the US capital Washington, D.C. was full of intense meetings with research centers, the press and prominent former officials working with think tanks.
The minister met with a delegation from Jewish-American organizations and discussed means of pushing forward the peace process in the Middle East. Shoukri emphasized Egypt's support for the two state solution of the Palestinian-Israeli conflict.
The minister also had an interview with NPR radio station and discussed the latest developments in Egypt, particularly successfully completing the political roadmap and holding parliamentary elections. The interview also discussed regional challenges in the Middle East, said Foreign Ministry Spokesperson Ahmed Abu Zeid.
Abu Zeid said the minister stressed during the interview the distinct relationship between Egypt and the United States, which has further developed since strategic dialogue was held between the two countries.
Shoukri stressed that the Egyptian government is dealing transparently with human rights issues and a democratic transition in the framework of respect for the law and the principle of separation of powers, Abu Zeid said.
Shoukri held meetings with a number of the most influential personalities in American society who participated in an interactive dialogue session organized by the Atlantic Council, during which he explained the Egyptian position on regional issues, including the Libyan and Syrian crises and the Iranian nuclear project.
Edited translation from Al-Masry Al-Youm