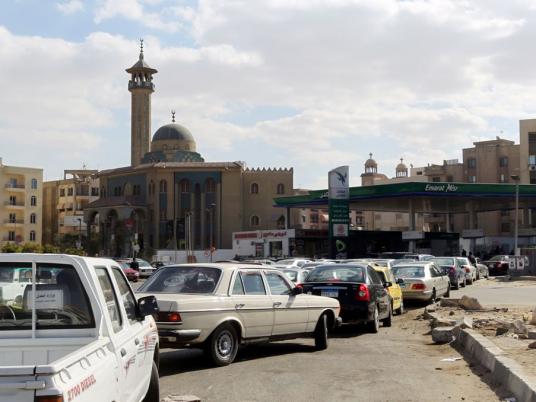 Long lines at gas stations and electricity blackouts have become a part of everyday life for most Egyptians in the past two years, but indicators show that the country may soon be dealing with the most severe fuel shortage it's seen yet, as the government's worsening finances leave little room for imports.
Diesel shortages are likely to grow more severe in March, an official source at the Egyptian General Petroleum Corporation (EGPC) told the Turkish news agency Anadolu on Monday. The senior official said that the Finance Ministry had only allocated US$300 million in March to diesel imports, though the Egyptian General Petroleum Corporation requested $500 million.
The official claimed that Egypt's decision to cut down dollar allocations for fuel subsidies is the result of its dwindling international currency reserves, which dropped to $13.6 billion by the end of January. With the current level of reserves, he said Egypt could secure diesel imports for another 75 days only.
Government officials, consumers, and industry insiders have attributed the shortages to a number of factors: the worsening state of public finances, labor strikes and large-scale protests around the country, the Egyptian Pound's decreasing value against the dollar, a flourishing black market, an inefficient subsidy system, and decreasing fuel coupled with soaring demand.
Industry insiders and analysts say that it is a combination of all these factors, along with historically bad government energy policies, that have dried up the country's sources of fuel.
Many experts also stress that Egyptians are today seeing the results of the previous governments' failure to implement a long term energy strategy that could help the country transition from energy producer to energy importer.
"Egypt needs a comprehensive energy master plan," said Chairman of Shell Egypt Jeroen Regtien, during a roundtable of senior oil and gas industries executives last January.
This lack of planning, in addition to the past two years' economic slowdown, has led to a significant decrease in the country's oil and gas production, while demand for fuels continues to increase.
This slump was more moderate in the gas sector (in which production decreased around 5 percent) than in the oil sector.
Waleed Geassa, managing director of the oil and gas services company Tipoco, said oil production has been down by 30 or 35 percent since January 2011.
Official figures from EGPC indicate a much smaller drop, but it's clear the government is looking elsewhere to meet the country's energy needs. The Petroleum Ministry announced in the Official Gazette that Egypt would be a gas-importing country, as of mid-December last year.
"The financial problems of the EGPC impeded a steady inflow of imported petroleum products to the local market," said Allen Sandeep, head of research at Naeem Brokerage.
Gas is the future
Oil and gas production in Egypt have had completely different trajectories. Oil production began in 1985 and peaked in the 1990s. Since then, it has steadily decreased as the most accessible oil fields have been maturing.
Egypt is ranked fifth among African oil producers and sixth in proven reserves, according to the figures from the United States Central Intelligence Agency.
Now, experts say it's clear that Egypt has passed its peak oil production. It's also unlikely to ever compete with neighboring Libya, whose proven reserves are 10 times that of Egypt's.
Gas production, however, which began in the 1980s, peaked at the end of the 2000s. Egypt is the African second largest gas producer and third in proven reserves, behind Algeria and Nigeria.
"The future of Egypt is gas," said Geassa.
But Egypt's economy has failed to completely catch up with its booming gas industry; most vehicles and many industries remain largely dependent on oil-derived products. Solar, or diesel, remains the most important fuel for much of the country's transport. According to the Finance Ministry, solar subsidies represented half of the energy subsidies in 2011/2012 and 10 percent of the whole budget.
"The whole country runs on solar," said Samer Attalah, economy professor at AUC.
Attalah and other economists have been warning of a large-scale diesel shortage, which they say would bring the country to a screeching halt.
Fueled by the generous subsidy system and by a solid demographic and GDP growth, oil consumption has continued to grow in the last decade. According to the Energy International Agency (EIA), it has increased by 30 percent between 2000 and 2011.
In the meantime, oil production dropped by around 15 percent, making Egypt a net oil importer starting in around 2006. Domestic demand also surpassed the country's refining capabilities, forcing Egypt to import expensive refined products.
Officials believed that gas production and revenues from its export was supposed to help pay for the oil imports. Egypt soon became a major gas exporter to Jordan and Israel and exports reached 30 percent of the production, according to the EIA.
The government also began to encourage the use of natural gas in the industry and many high energy-consuming industries. Cement, steel and fertilizers industries blossomed in Egypt because they benefitted from subsidized gas rates. The electricity sector has increasingly become dependent on gas.
Domestic demand for gas soared. It increased by 10 percent in 2011 alone, according to BP, and profits from exporting natural gas never compensated
But gas production has stagnated since 2009 as no further concessions were allocated between 2008 and 2012.
The country's gas reserves are gradually becoming harder to reach and require more initial investment from foreign producers, and many are increasingly reluctant to do so. Oil and gas industry leaders said during the January round table, that actual contractual time frame that EGPC gives companies is not long enough for them to recover cost.
"Incentives have to be made to encourage venturing into riskier projects," said Regtien.
Further, EGPC, which buys nearly all domestic production, is deeply indebted to foreign companies. Industry insiders also pointed to red tape, heavy regulations and rising labor cost as other obstacles slowing their operations.
The extent of EGPC's debt to foreign contractors is a well-kept secret. Reuters evaluated it at 9 billion dollars, a source close to the oil and gas sector gave Egypt Independent an estimate between 5 and 9 billion dollars. EGPC is also heavily indebted to national banks.
Egypt Independent tried to reach out government officials to obtain their version of the facts. An interview was set with a very cordial Misr Petroleum official who was on holiday in Aswan during the phone call. A misunderstanding made him understand that the reporter was in the oil export business. When he realized at the start of the meeting the purpose of the interview, the reporter was told he would not get any information and all doors suddenly closed.
Industry insiders say that though EGPC remains tight-lipped about its debts, most foreign companies are aware of them and deem new commitments with the corporation unwise.
"It seems foreign contractors refuse to expand production because they know that they will not be paid," said Allen Sandeep.
According to Geassa, the uprising in January 2011 virtually stopped all the new projects in the sector. Oil production suffered particularly from that freeze. The most important oil fields have already been emptied and production now relies on smaller-scale projects that require smaller, but more consistent levels.
Stagnating production and an increase in demand compelled Egypt to plan gas imports from abroad last year and considerably reduce its exports.
"No liquidities"
Dwindling foreign reserves and booming energy deficit have put the government and the Ministry of Petroleum in a very difficult position when dealing with the energy shortages.
"The government has no liquidities to buy crude oil," said Attalah.
Reuters recently reported that delays in EGPC payments made oil tankers wait for weeks in the Red Sea before being able to unload. Other reports stressed an increasing lack of confidence in EGPC payment that result in less flexibility accorded to the institution.
To end this deadlock, experts indicate the conclusion of the $4.8 IMF loan is the sole way to bring back the necessary liquidity and confidence to both government institutions and private companies.
Meanwhile, it's unclear how the Egyptians will continue to handle the shortages and the disruption that accompanies them.
Fights and brawls, common features in gas station lines, have escalated. In February, one man was killed and two people injured after five assailants shot at them following an earlier fight at a Qena gas station.