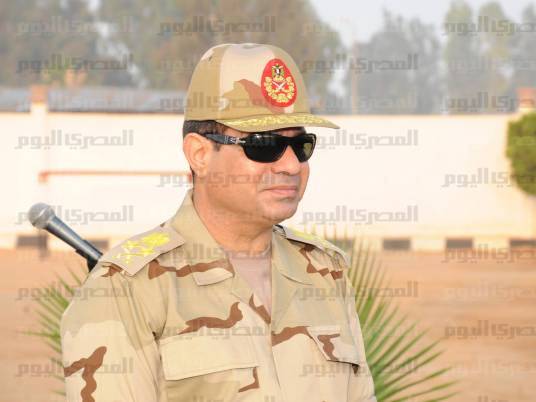 Egypt's army is recasting the country's political drama, giving a popular general the starring role in a change with echoes of the past that could undermine democracy in the Arab world.
Army chief Abdel Fattah al-Sisi has emerged as a hero to many Egyptians after toppling Islamist President Mohamed Morsy and cracking down hard on his Muslim Brotherhood.
Many liken Sisi to Gamal Abdel Nasser, the charismatic colonel who led a coup against the monarchy in 1952, set up an army-led autocracy and rounded up thousands of Muslim Brothers.
Posters featuring the two men have appeared across the capital and millions have taken to the streets in support of Sisi, while security forces have gone after the Islamists with a ferocity unseen since Nasser's days.
Even though Sisi has a popular mandate, the army's maneuvering, coupled with the resurgence of the security apparatus, raises questions about the prospects for democracy in the Arab world's biggest nation. In one incident alone, 80 Morsy supporters were killed in the streets of Cairo on Saturday.
Sisi, 58, must tread cautiously: unlike the old days, people power remains a threat to anyone in charge.
The turmoil is troubling to some liberals who supported Morsy's removal but are starting to speak out about Sisi's growing role and what it could mean for Egypt's transition to democracy since the 2011 fall of Hosni Mubarak.
Sisi, a former head of military intelligence, has not indicated he will run for office, but there is little doubt he would win any election held now. The military says it does not want to govern and has mapped out a transition that should bring presidential elections in nine months.
ANOTHER NASSER
"I don't want to have another Nasser," said Mohamed Abolghar, head of the Egyptian Social Democratic Party, a major component of the army-backed interim government. The prime minister and deputy prime minister are members of the party.
Abolghar was speaking to Reuters in a dimly-lit office in downtown Cairo near Tahrir Square, where hundreds of thousands rallied on Friday in response to Sisi's call for a mandate to fight "violence and terrorism" — a veiled reference to the Muslim Brotherhood.
The 72-year-old doctor, like some other liberals who backed the overthrow of Morsy — fears Sisi could become a popularly elected general with a mandate to change the country at will.
"Look at Hitler, he was elected democratically. Look at Mussolini, he was elected democratically," he said. Underlining the instability, he also sees a threat to democracy from what he describes as Muslim Brotherhood violence.
"Right now, this is not a democracy," he said.
The stakes are high.
What happens in highly influential Egypt will affect the Arab world, where the 2011 uprising inspired hopes for democratic change in a region long dominated by generals.
Some now fear hopes of civilian rule are dashed. A return of oppression could drive Islamists underground, fanning new violence that would justify a return of emergency laws that crushed politics for decades.
As the government promises a new transition to democracy, rhetoric from both sides suggests more violence that could further jeopardize hopes for political freedom. The government accuses the Brotherhood of inciting violence, while the Islamists say they are under siege.
"I don't think you're looking at anything that would be a recognizable democracy emerging any time soon," said Nathan Brown, a George Washington University professor and leading expert on Egypt.
PRESIDENTIAL ASPIRATIONS?
It is not clear whether Sisi will run for president, though posters in Cairo urge him to do so. Regardless, any aspiring politician will need the army's endorsement.
"Why be president when you can play the role of king? Power is going to flow through the military," said Joshua Stacher, an expert on Egypt and professor of political science at Kent State University, who argues that Sisi will not seek executive office.
"This is early 1992 Russia and we are trying to find Putin," said Stacher, referring to the Russian president who emerged from the intelligence service to dominate the political scene.
Sisi's growing political role was highlighted when he called on the public to hold mass protests and give him a mandate to confront the Brotherhood. That call boosted his popularity and sent his political star rising, but troubled some liberals.
Foreign Minister Nabil Fahmy dismissed their concerns.
He said the military, which vowed to stay out of politics after running Egypt through a turbulent post-Mubarak transition, had responded to the popular will by removing Morsy, just as it had pushed out Mubarak in 2011.
"As we get this road map implemented, and as we settle security issues, we will see less and less of this concern about the army's role," Fahmy told Reuters in an interview.
Yet the emerging order is showing flashes of the autocratic past, say critics. The police, demonized under Mubarak for the brutality that fuelled the 2011 revolt, are back in action and feted on state TV even as the Islamists accuse them of massacres.
Adding to the concerns, the interior minister has announced the revival of security agencies notorious for abuses in the Mubarak era, when they were used to throttle political debate.
"You can't have security in the country without political security," Mohamed Ibrahim, the minister, said.
"I've begun in practice to rebuild these departments, some officers who were banished and had experience in these roles, I've ordered them returned and to do their work again."
POLITICIANS WORRIED
Ahmed Maher, founder of the April 6th movement that ignited the 2011 uprising, said the minister's statements were worrying.
He fears the anti-Brotherhood crackdown sets a precedent. "It could happen to any of us," he said. "We were against Morsy and we demanded his departure. But at the same time we will not allow the old regime to come back."
The army-backed government says it wants a fully inclusive political transition, including the Brotherhood, even as it accuses it of turning to ever more violent means.
Yet while the government urges Islamists to take part in politics, the Brotherhood says the authorities are trying to wipe it out in one of the toughest crackdowns since Nasser. The group denies using force.
The army has promised free and fair elections. But the credibility of polls could be thrown into doubt without Islamist participation. The Brotherhood won every election held after Mubarak only to see the military, encouraged by anti-Morsy protests, remove the president.
The Nour Party, the Islamist group which came second to the Brotherhood in Egypt's last parliamentary elections, also worries about Egypt's future. The party signed up to the army's political road map but later distanced itself from the interim government in protest at the killing of Morsy supporters.
"All these practices indicate we are beginning a period in which there could be restrictions to freedom," Younes Makhyoun, head of Nour, told Reuters.
If the protests of recent days are anything to go by, the army-backed government has a popular mandate to crack down harder on Islamists. The Brotherhood says hundreds of its members and some of its leaders have been arrested.
With Egypt's best organized political group forced aside, weaker parties will likely struggle to make their voices heard. "It is clear when push comes to shove the army's word is final in significant areas," said Brown.
"The danger in this situation is that there is no incentive for other political actors to develop any kind of coherent alternative," he said. "What that does is take a lot of energy out of the civilian political system."