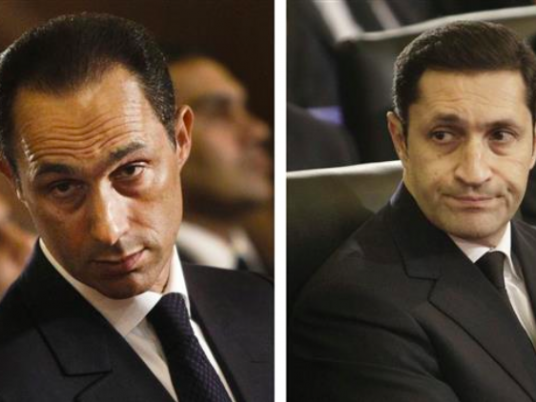 Egypt's prosecution filed an appeal against a decision to release ousted President Hosni Mubarak's sons, Alaa and Gamal, and demanded that they serve their full sentence.
According to the Associated Press, a judicial official, who preferred to remain anonymous, said on Wednesday that "the appeal was lodged in the Court of Cassation against the release order, which is yet to be implemented."
In October a court ordered Alaa and Gamal Mubarak to be released after taking into account the time they spent behind bars since their arrest in 2011.
The prosecution investigated the reasoning behind the release order and discovered a miscalculation concerning the time they spent in detention, said the judicial official.
Farid al-Deeb, the lawyer for Mubarak's sons, said in October that his clients should be set free, allegedly saying that both have already finished the three-year sentence imposed on them.
Mubarak and his sons were arrested in the months following the 2011 uprising that led to the end of Mubarak's 30-year power grip.
In May, Alaa and Gamal Mubarak were given three-year sentences over charges of embezzling LE125 million (US$16 million) from state funds allotted to the maintenance of presidential residences.