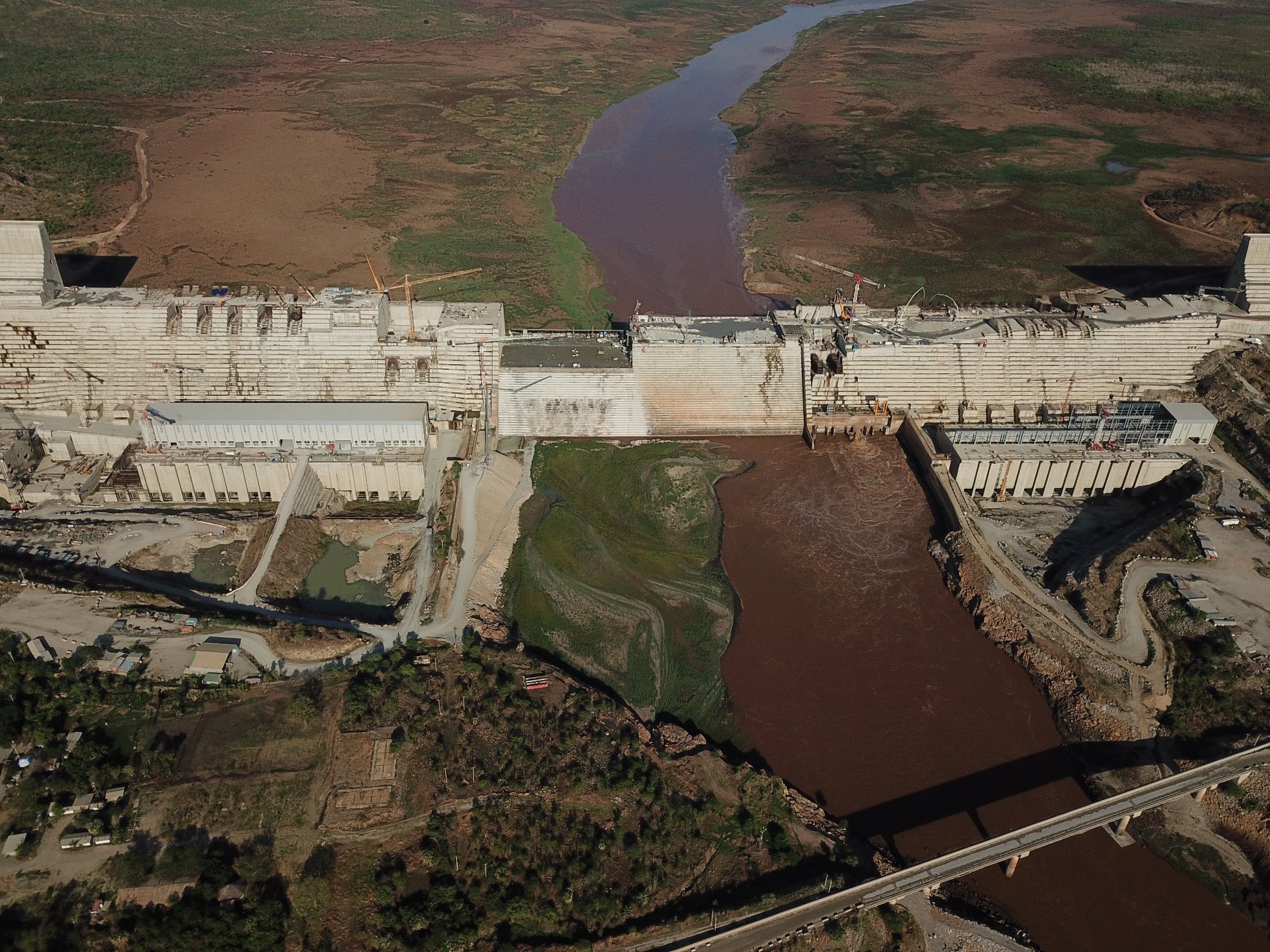 Egyptian President Abdel Fattah al-Sisi said on Sunday that Egypt is renewing its commitment to exerting its utmost efforts to settle the issue of the Grand Ethiopian Renaissance Dam (GERD) in a manner that achieves the interests of all parties.
In a speech on Sunday at the opening of the fifth session of the Cairo Water Week organized by Egypt under the title "Water at the heart of climate action", Sisi called on the international community to maximize and combine efforts to achieve this just goal.
Sisi stressed that Egypt, in its dealings with the Nile, has always been a pioneer in advancing the rules and principles of international law related to shared rivers.
The foremost of this is cooperation and consultation in order to avoid causing harm while managing transboundary water resources to ensure joint and fair use to those resources.
He explained that Egypt's position stems from its conviction that adhering to the spirit of cooperation and consensus on areas of common interests is the only way to avoid the negative effects that may result from unilateral measures in river basins, which has been proven by best international practices, including in Africa.
Egypt's position also stems from the fact that it shares the same endeavor for development with various developing countries and believes in the necessity of avoiding any negative repercussions that may result from a development project in developing countries, affected by another developing country, and harming it in a way that cannot be contained.
"We dream of a joint endeavor to maximize the wealth of the Nile Basin, so that all countries of the basin can enjoy it, instead of moving individually, competing in a non-cooperative manner, resulting in limited development, limited in its size and scope, in a way that destabilizes them," he explained.
Visions of cooperation
He said that Egypt's firm vision is to work together for the purpose of perpetuating and sharing prosperity, rather than competition and rivalry, which leads to sharing poverty and instability.
Climate change has exacerbated this dual challenge of water and food security challenges, especially in countries that suffer from water scarcity, Sisi said, warning that this may lead to serious negative consequences for peace and security – regionally and internationally.
He explained that Egypt is at the heart of those three intertwined challenges – water, food security and climate change – stressing that Egypt is one of the driest countries in the world and depends almost exclusively on the Nile for its renewable water resources, of which about 80 percent go to the agricultural sector, the source of livelihood for more than 60 million people who are half the population of Egypt.
Egypt's water resources have become unable to meet the needs of its population despite following a policy to rationalize consumption, through the frequent reuse of agricultural irrigation water in a way that made the overall efficiency rate of its use in Egypt one of the highest rates in Africa.