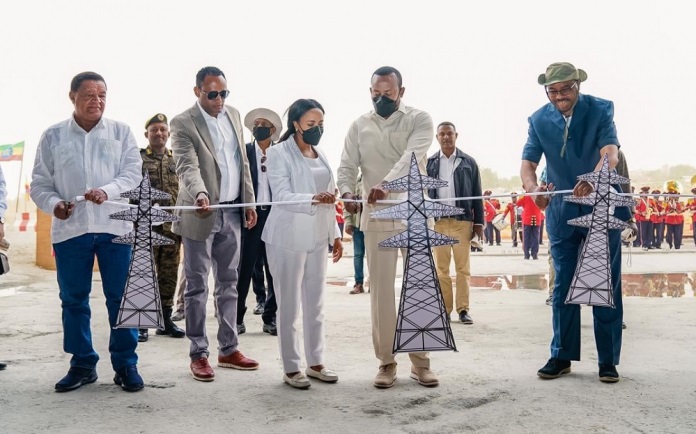 The Egyptian Foreign Ministry on Sunday slammed Ethiopia's unilateral start of the operation of the Grand Ethiopian Renaissance Dam, calling it a violation of its commitments under the 2015 Declaration of Principles signed by the Ethiopian Prime Minister.
"In response to the Ethiopian announcement on Sunday of unilaterally starting the operation of GERD, after the previous unilateral start of the first and second stages of filling the dam, Egypt affirms that this step is a further move by the Ethiopian side in violating its obligations under the 2015 Declaration of Principles Agreement, signed by the Ethiopian Prime Minister," the statement read.
Ethiopia announced that it will start producing electricity for the first time on Sunday from the GERD, despite contentions from downstream nations Egypt and Sudan.
Ethiopian Prime Minister Abiy Ahmed officially inaugurated the partial commencing of power generation of GERD, the Ethiopian Press Agency (ENA) reported on Sunday.
According to ENA, Ahmed assured: "Ethiopia does not want to harm anyone. The country's goal is to use the power for its large population that has never seen electricity and to alleviate poverty."
Negotiations over the GERD have officially stopped since April 2021, after Egypt, Sudan and Ethiopia failed to reach an understanding before the start of the second filling of the dam, which Ethiopia implemented in July.
Cairo and Khartoum reject Ethiopia's insistence on filling the dam before reaching a binding agreement on filling and operation.
Egypt, which relies considerably on freshwater from the Nile, has voiced fears that the GERD would negatively impact the country's water supply.
Egypt has also insisted that measures be put into place to protect downstream countries in case of drought during the dam's filling process.
Egypt and Sudan say they want a legally binding agreement, while Ethiopia says any pact should be advisory.
The two nations consider the dam a threat to their vital water supplies, while Ethiopia considers it essential for development and doubling its electricity production.
The downstream nations fear possible blows to water facilities, agricultural land, and overall availability of Nile water.
Negotiations over the dam between Egypt, Ethiopia, and Sudan have stalled for years, with the three parties ultimately failing to reach any concrete agreement.
The disputed dam is the largest hydroelectric project in Africa, with a cost of more than four billion dollars. The construction of the dam began in 2011.
It is considered to be one of Egypt's most serious water issues.