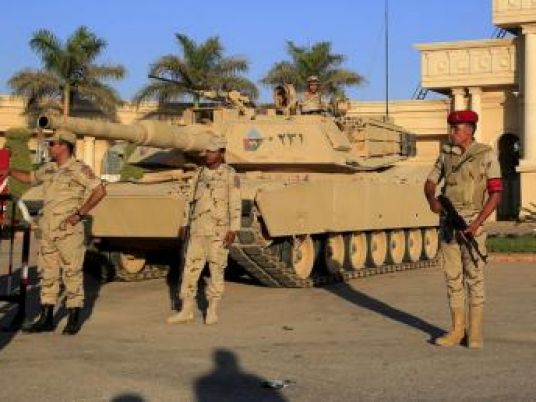 In response to a recent report published by American newspaper The Wall Street Journal regarding an alleged request by the United States to Egypt to send armed forces to Syria, former undersecretary of Egypt's General Intelligence Mohammad Rashad said that Egypt will summarily decline any such invitation.
"The Egyptian Armed Forces are not mercenaries [and cannot be] leased or ordered by foreign states to deploy forces in a certain area. This is not acceptable and no one […] should dare to direct or give instructions to Egypt's army," Rashad told Egypt Independent.
The WSJ report cited US officials as saying that that the "Trump administration is seeking to assemble an Arab force to replace the U.S. military contingent in Syria and help stabilize the northeastern part of the country after the defeat of Islamic State". Included in that force would be Egyptian troops.
Rashad told Egypt Independent that Egypt is not interested to militarily intervene in Syria, adding that the Sisi regime has adopted a neutral stance towards the conflict.
The report claimed that recently-appointed national security adviser John Bolton has called Egypt's acting intelligence chief Abbas Kamel to see if Cairo would be willing to contribute with military personnel.
The newspaper quoted anonymous US officials who noted that the Trump administration also has reached out to Saudi Arabia, Qatar and the United Arab Emirates, requesting of them to contribute billions of dollars in funds to help restore northern Syria, while also asking them to send troops.
"Egypt is adopting a strategy that is based on supporting the unity of the Syrian territories and its national army, therefore, Egypt is refusing any interference from foreign countries in Syria as the matter is related to the Syrian people and only they have the authority to decide their fate," Rashed explained.
In late 2016, President Abdel Fattah al-Sisi told Portuguese state television that Egypt's priority "is to support national armies, for example in Libya […] the same with Syria and Iraq." The television host proceeded to ask Sisi if he meant the Syrian regime, to which he replied, "Yes".
Egypt recently expressed concern over the current military escalation in Syria which it said threatens the safety of the Syrian people and the understandings that has been reached on so-called de-escalation zones.
Meanwhile, a Foreign Affairs Ministry statement affirmed its utmost rejection of the use of any internationally prohibited weapons in Syria, demanding a transparent international investigation in accordance with international mechanisms and procedures.
Moreover, Egypt also expressed its solidarity with the Syrian people in order to live a safe and stable life and to preserve their national capabilities and territorial integrity through a comprehensive political consensus for all Syrian political bodies away from any attempts to undermine their aspirations.
Egypt urged the international community and the major countries to seek a peaceful solution to the Syrian crisis away from polarization and to help in ensuring the humanitarian access to those who were trapped and affected by the strike.
In the early hours of April 15, US, British and French forces pounded Syria with air strikes in response to a poison gas attack that killed dozens of people last week, in the biggest intervention by Western powers against Syrian President Bashar al-Assad since the conflict began.