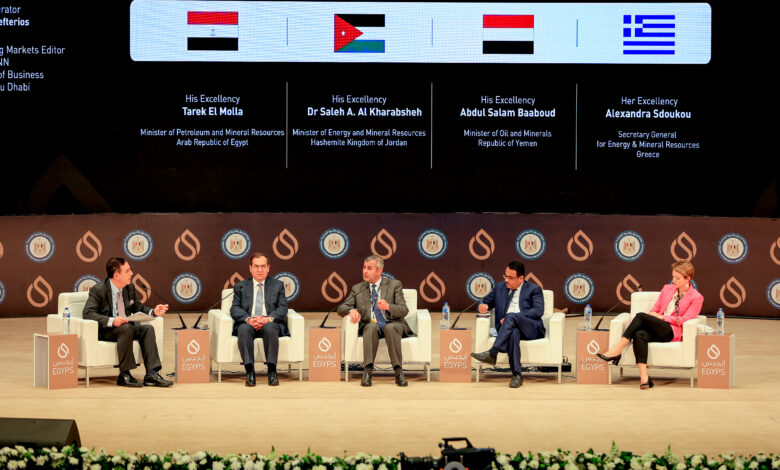 With an inflow of investments projected to expand by US$26 billion, Egypt continues to increase its energy exports and strengthen its positioning as a dynamic and growing energy hub.
The final preparations for hosting the largest oil, gas, and energy Show are well underway. Themed "North Africa and The Mediterranean: Supporting Sustainable Global Energy Supply and Demand", The Egypt Petroleum Show (EGYPS) 2023 is held under the auspices of His Excellency President Abdel Fattah El Sisi and with the support of the Ministry of Petroleum & Mineral Resources from 13-15 February 2023.
EGYPS 2023 will bring together C-suite officials of international energy companies and attract over 32,000 attendees, including global industry experts, leaders, and decision-makers from the oil, gas, and energy community. More than 260 speakers will address sustainable climate-conscious production of oil and gas, energy transition and decarbonisation, and actions to deliver a net-zero future.
For the first time, EGYPS 2023 will witness the participation of over 50 new companies, along with the presence of more than 50 affiliates to the Ministry of Petroleum & Mineral Resources, the upcoming edition will take place with an expanded exhibition space, hosting more than 500 exhibitors, including 28 National and International Oil, Energy, and Service companies, namely Chevron, Kuwait Energy, Cheiron, Dragon Oil, ExxonMobil, the Egyptian General Petroleum Corporation (EGPC), The Egyptian Natural Gas Holding Company (EGAS), South Valley Egyptian Petroleum Holding Company (Ganope), Apache, bp, TotalEnergies, Enppi, Petrojet, and Schneider Electric.
The sixth edition will feature 13 international pavilions hosting world-class companies and products from leading energy countries, including China, Cyprus, Germany, Greece, Italy, Scotland, India, Turkey, Canada, the United Kingdom, Spain, the United States of America and the United Arab Emirates.
"Next year, EGYPS has an expanded agenda enabling the exchange of ideas and information, which includes the Strategic Conference, focusing on 3 main pillars: Geopolitical and global economies, energy transition and energy solutions, and the next generation oil, gas, and energy ecosystems", said Christopher Hudson, President at dmg events, the organiser of EGYPS.
EGYPS 2023 will outline both the potentials and challenges to ensure energy security, in addition to leveraging on the outcomes achieved by the Eastern Mediterranean Gas Forum (EMGF).
Hudson added, "The Show would deliberate a number of important topics including sustainability in the energy sector – for the first time at EGYPS – the conference on finance and investment, the conference on gender equality in the energy sector, and the technical conference."
Shaped by engineers, and created for the industry – the EGYPS Technical Conference has been curated by over 80 technical experts under the guidance of Technical Chairman Dr. Samir Elkareish, Vice Chairman, Energy Transition, EGAS, will represent a global industry-wide call for papers campaign featuring 19 technical categories and a thorough two-stage Technical Committee review.
In the same context, Salman Abou Hamzeh, Vice President of dmg Events, highlighted that EGYPS has been reflecting opportunities to spearhead the petroleum sector's growth and ongoing evolution. From policy to innovation breakthroughs, EGYPS is a prestigious platform that attracts the best minds and provides a collaborative environment for sharing ideas with high-level, relevant audiences from the government, civil, energy, academic, and business sectors.
The exhibition will feature dedicated zones on Digitalization in energy, and for the first time, the Offshore and Marine zone, empowering the global energy sector to forge new cross-sector collaboration and  improve existing business alliances to maximize value across firms and foster future growth.
The 2023 edition will also host the Young Professional and Youth Engagement Programmes, supported by headline sponsor ExxonMobil. The programmes bring together the passion and talents of industry students and young professionals, to stimulate engagement and knowledge exchange.
EGYPS 2023 will also feature two Awards Ceremonies that celebrate outstanding talents and impactful projects namely Global Equality in Energy Awards and Sustainability in Energy Awards.
Tax registration number: 200-150-898.