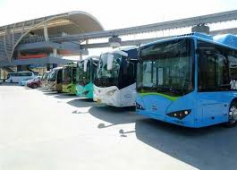 Minister of Military Production Mohamed Ahmed Morsy announced that a cooperation agreement with MCV company has been established via a contract to manufacture the first Egyptian electric bus.
This will done via a local manufacturing rate of up to 60 percent, in line with Egypt's Vision 2030 and keeping pace with the global development of the bus industry to operate with fuel alternatives.
The Ministers of Local Development, Environment, Public Business Sector, Trade and Industry, and the Governor of Cairo participated in a Ministry of State event celebrating its Monday joint cooperation with MCV company.
The event witnessed the presentation of an advertisement for the bus, which included a definition of its specifications and capabilities, in addition to pictures of it from the inside and outside.
Minister of Local Development Mahmoud Sharawy urged the importance of all sectors of the state in joining forces to develop local manufacturing in this vital field, which the political leadership is paying great attention to.
This cooperation is a successful model for partnership regarding the manufacture of environmentally friendly vehicles, which provides new job opportunities in the local market.
He explained that his ministry plans to modernize the public transport fleet in Cairo and Alexandria to operate with natural gas instead of diesel.  This comes within a partnership with the Ministry of State for Military Production, with Sharawy specifying that 2,262 buses will be modified during the coming period at a total cost estimated at LE 1.2 billion.
Minister of Environment Yasmine Fouad stressed the need for the project to comply with international environmental standards, especially regarding harmful emissions from conventional fuels.
Integrating the environmental dimension into development projects remains the biggest challenge, she said.
Cooperation between the public and private sectors is fruitful because of the consequent support for the national industry and the opening of new markets locally and globally, Minister of Public Business Sector Hisham Tawfiq noted.

Minister of Trade and Industry Nevine Gamea stressed that the production of the first Egyptian electric bus represents an important step towards shifting towards clean energy and reducing harmful emissions of traditional vehicles in order to preserve the environment and reduce global warming.