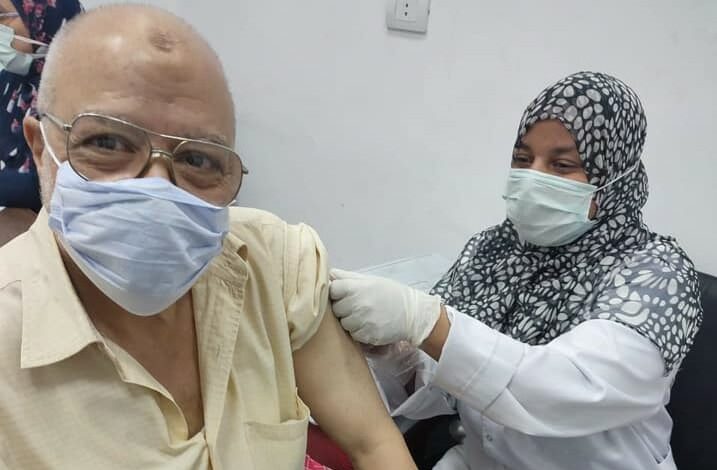 The Ministry of Health and Population in Egypt announced Saturday, that it will soon announce the booster shots against COVID-19 for the most vulnerable groups such as medical teams, the elderly, and those with chronic diseases.
During a telephone interview with the media host Lamis al-Hadidi on the "Last Word" (Kalema Akhera) television show, the spokesperson for the Ministry of Health and Population, Hossam Abdel-Ghaffar, said that booster doses will be from all available vaccines.
The number of people under the age of 18 registered to receive the coronavirus vaccine reached 512,000, he added.
Minister of Health and Population Khaled Abdel-Ghaffar held a meeting on Sunday, during which he discussed the steps to start vaccinating citizens with the booster shot for those in priority groups as well as following up on the vaccination of children from 12 years to 15 years old.
The meeting was attended by the Assistant Minister of Health and Population for Public Health Initiatives, Mohamed Hassani, the Head of the Preventive Medicine Sector Alaa Eid, and the Minister of Health's advisor for information technology, Aysam Salah.
The Health Minister directed the formation of a scientific committee aimed at educating citizens about the importance of receiving the coronavirus vaccine, especially in the governorates with the lowest rates of vaccination, pointing out that vaccines are the first wall of protection against infection with the virus and reducing the death rate.
The minister announced the receipt of 600,000 doses of the Johnson & Johnson and AstraZeneca vaccines on Saturday at Cairo International Airport, pointing out that Egypt is scheduled to receive more 3.9 million doses of the AstraZeneca vaccine by the end of this December, as part of the ministry's desire to vaccinate citizens.
During the meeting, Abdel-Ghaffar confirmed the availability of all types of vaccines in vaccination centers in all governorates in addition to manufacturing vaccines locally within the factories of the Holding Company for Biological Products and Vaccines (VACSERA).