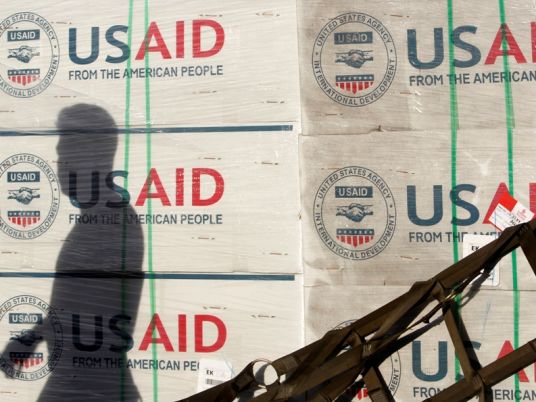 Egypt has signed seven grant agreements with the US represented by the USAgency for International Development, worth US$125 million, as part of the joint economic relations program between the two countries which aims to enhance developmental cooperation efforts, Minister of International Cooperation Rania al-Mashat announced.
Cooperation with the US in various fields is an important endeavor, she said, adding the agreements announced on Monday will stimulate the state's developmental efforts in education, science and technology, agriculture, health, economic governance, trade and investment.
Mashat referred to a five million dollar grant that was directed to the health sector earlier to enhance the country's emergency response efforts to coronavirus.
The Ministry of International Cooperation, the National Council for Women and the World Economic Forum launched an accelerator to bridge the gender gap, the first of its kind in Africa and the Middle East and North Africa, said Mashat, which works to take institutional measures to empower women.
The Ministry of International Cooperation seeks to agree on a new partnership with the US Agency for International Development to achieve the catalyst's goals to bridge the gender gap, improve the work environment for women in the private sector, and enhance financial inclusion for women.
This partnership also stimulates the participation of the private sector in development and increasing its role in various projects, by supporting SMEs, entrepreneurship, and promoting business.
US ambassador to Cairo Jonathan Cohen stated that this assistance falls within the US government's investment in Egypt that has reached $30 billion over the past 40 years, and resulted in providing clean water and sanitation services to 25 million Egyptians, helped eradicate polio and build 2,000 schools, and provided 4,000 university scholarships.

The agreements signed Monday are divided into $17 million for the basic education sector, $31 million for the Egyptian-US Higher Education Initiative, four million dollars for Egyptian-US cooperation for science and technology, $13 million for improving health outcomes, $27 million for economic governance, and five million dollars for agricultural business and rural development, and $28 million to stimulate the trade and investment environment in Egypt.
The development cooperation portfolio with the US Agency has recorded about $900 million since 2014, through which many projects are supported in the sectors of basic education, higher education, health, governance, the private sector and SMEs.