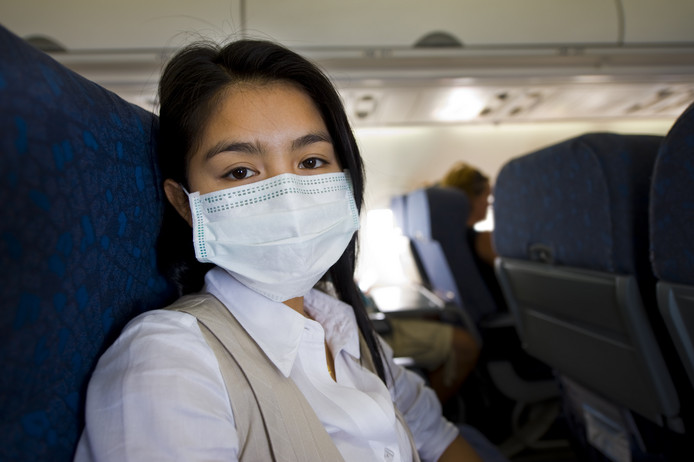 EgyptAir Company will implement several new measures to prevent the transfer of Coronavirus, which has killed over 100 people in mainland China so far and spread to over a dozen countries worldwide.
The new measures were adopted in coordination with Egypt's Ministry of Health, the company stated on Tuesday, and include advising travelers to wear masks covering their mouth and nose and wash their hands with soap every two hours while on the plane, traveling, or at home. The new measures issued by the company also warn against eating any fish or other animal product in China and/or walking in crowded places such as markets.
The company also urged travelers to visit the nearest hospital or medical center to perform an immediate examination if they develop a fever, and asked them to follow the measures outlined by authorities when dealing with a suspected case from flights coming in from Guangzhou, Beijing, Hanzo, and Hong Kong.
In dealing with suspected cases of the infection on international flights, EgyptAir underlined that any people with suspected cases of Coronavirus will use separate toilets on the plane and will receive a mouth and nose mask and separate meals.
The cabin crews will also hand over "health monitoring cards" to passengers, a measure announced on Monday by Egypt's Ministry of Health.
According to the Ministry, travelers will be required to share relevant health information on the cards as part of Egypt's efforts to prevent the spread of Coronavirus at its airports.
On Wednesday, the United Arab Emirates announced its first cases of coronavirus — members of one family traveling from Wuhan, the epicenter of the outbreak. It marks the first confirmed case of the virus in the Middle East, according to The Associated Press, but it remains unclear how the family was able to make it to the UAE given China's lockdown of Wuhan and 17 other cities.
Edited translation from Al-Masry Al-Youm