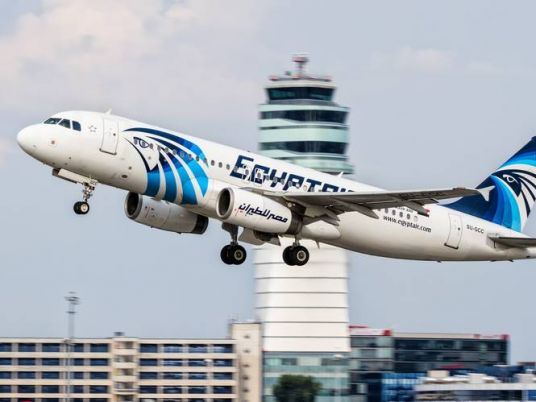 EgyptAir announced Friday that it has seen its highest daily operating rate on Saturday since international air traffic resumed on July 1, after the global lockdown on flights due to the coronavirus was lifted.
In a statement, the EgyptAir Holding Company said that 60 flights operating on Saturday will carry roughly 5,500 passengers.
Egypt's flagship carrier explained that these 60 flights are one trip of each to the following destinations: Baghdad, Accra, Lagos, Tunis, London, Athens, Madrid, Paris, New York, Milan, Frankfurt, Geneva, Abuja, Amsterdam, Brussels, Copenhagen, Moscow, Berlin, Vienna, Munich, Bahrain, Khartoum, Medina, Sharjah, Nairobi, and Addis Ababa.
This is in addition to three trips to each of Dubai and Jeddah and two flights to each of to Istanbul, Abu Dhabi, Dammam, Riyadh, and Beirut.
The company will also operate 13 domestic flights – an average of five to Hurghada, four to Sharm el-Sheikh, two to Luxor, and one to each of Taba and Aswan alongside five air cargo flights.
Egypt had suspended flights and tourism in March as part of measures to combat the coronavirus outbreak. Traffic in all Egyptian airports resumed since July 1, in accordance with Egypt's preventive and precautionary measures to coexist with the coronavirus.
Civil aviation traffic in Egypt had been suspended since March 19, excluding air cargo flights, charter flights only for tourist groups already in Egypt who want to return home, international medical flights and domestic flights.
Beginning September 1, all local and foreign passengers were demanded to provide a PCR analysis document proving they tested negative for coronavirus within 72 hours of reaching Egyptian territory.