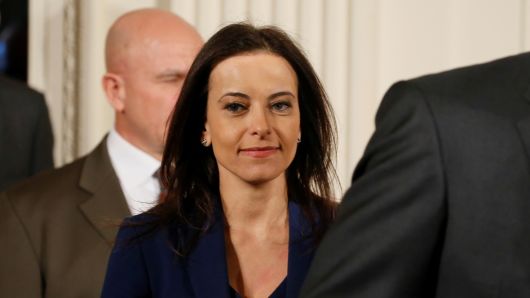 US President Donald Trump told reporters on Tuesday that he has pegged Egyptian-American politician Dina Powell as a possible successor to Nikki Haley, the former US Ambassador to the UN who recently announced her resignation.
Trump described Powell as "a person I would consider" when asked about her possible nomination.
"She is under consideration. We have, actually, many names," he said.
Three anonymous inside sources close to the White House told CNBC that, in the days leading up to Haley's resignation, three White House senior officials contacted Powell, asking about the extent of her interest in the matter.
One source told CNBC that Powell's substantial experience qualified her to be one of the leading names to take the position in the eyes of many of the president's close advisers.
If selected, Powell would have to follow Haley's footsteps in being approved by senate: Haley got an approval of 96-4.
Powell's position as ambassador would not be her first role in the Trump administration; her involvement with the Trump administration began when she was hired  as a senior to focus on entrepreneurship and empowering women, before being appointed as deputy national security adviser in the Trump Administration.
Along with her security position, she was also Assistant to the President for Presidential Personnel and Senior Counselor for Economic Initiatives.
She left the Trump administration early this year. Powel returned to the position she held before becoming part of the Trump administration, which was managing director at American multinational investment bank Goldman Sachs and as president of its non-profit subsidiary, the Goldman Sachs Foundation.
Powel's political experience includes serving several positions under the Bush secretary including the Assistant Secretary of State for Educational and Cultural Affairs, Deputy Undersecretary of State for Public Affairs and Public Diplomacy, and Assistant to the President for Presidential Personnel.
Born in Cairo, Powel immigrated to the US with her parents around the age of four. She attended the University of Texas in Austin  where she enrolled in the Liberal Arts Plan II honors program, studying a mix of humanities, sociology, political science, and criminology.