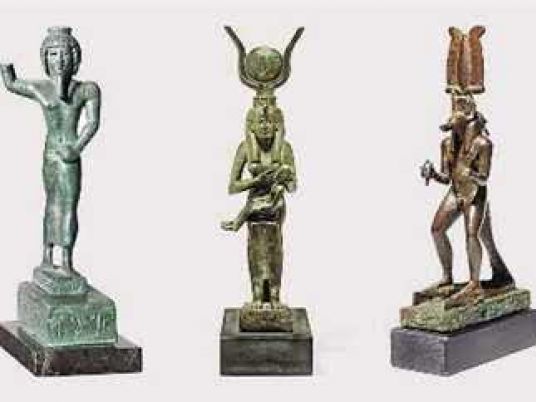 UK auction house Christie's will hold a sale in London displaying several Egyptian antiquities that will be offered during "Classic Week' between December 6 to 15.
The collection, according to Christie's website, "comprises many superlative examples of bronzes. They range from sculptures of deities, including Isis and Osiris, to striking statues of cats, bulls and fish. The timeless beauty of these pieces is bound to inspire a new generation of collectors."
Meanwhile, Antiquities Minister Khaled Anany has ordered investigations within the ministry's restored antiquities department. Shaaban Abdel Gawad, head of the department, said that the Foreign Ministry and Egyptian embassy in London have geared up efforts to stop the sale of the Egyptian antiquities in the auction.
He added that if it is proven that the artifacts were taken out of Egypt illegally, Interpol has vowed to restitute them.
Abdel Gawad indicated that this was not the first time that ancient Egyptian antiquities are sold, given that trade in monuments is not banned in Europe.
In October, Anany also announced that the ministry has taken the necessary legal measures to stop the sale of several artifacts belonging to Egypt's Islamic era during Sotheby's auction in London.
Edited translation from Al-Masry Al-Youm