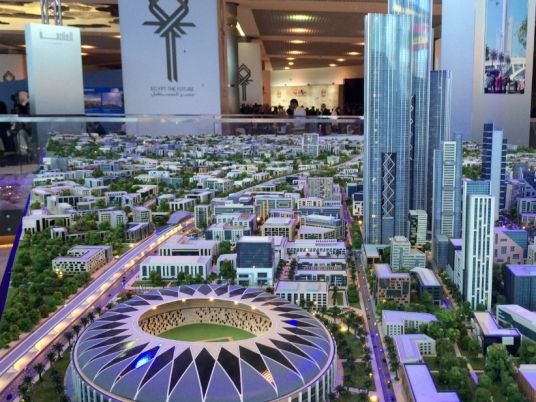 Egypt's New Administrative Capital annulled its agreement with the China State Construction Engineering Cooperation (CSCEC) to build and finance the ministerial district of the new capital and tasked Egyptian contracting companies to carry out the project instead, Ayman Ismail, chairperson of the New Administrative Capital for Urban Development said in a statement earlier this week.
"The two parties didn't reach a mutually satisfactory agreement in respect to the price per meter of implementing the project. The Chinese company wanted to depend on local Egyptian construction companies, which would have been more costly for us," Ismail said in the statement.
Egypt will rely on Egyptian contractors directly to move forward with the project as they offered better prices, Ismail added.
The agreement with the Chinese company, signed in September 2015, with an overall contract value of US$2.7 billion and a three-year construction period, included building and financing 12 ministerial buildings, a parliament, a national convention center and an exhibition complex.
An Egyptian shareholder company has been tasked with building the New Administrative Capital since May 2016.
Egypt's Arab Contractors company is now taking the lead in the required works of the New Administrative Capital, carrying out a total of more than LE2 billion (US$108.5 million) worth of construction, Amwal el-Ghad newspaper reported on Tuesday.
"We are currently carrying out [construction of] 78 residential buildings over two phases in addition to the main utilities network in the Government District, including water and sanitation lines and roads," Sayed Farouk, vice chairperson of Arab Contractors, said.
The implementation rate of work in the capital city exceeds 60 percent, Farouk said.
The new capital is one of a series of mega-projects announced by President Abdel Fattah al-Sisi designed to attract foreign investment and create jobs in a country with a growing population of 92 million.
Among the development and infrastructure investments was a deal to build the new capital's first phase, which Egypt has said will cost some US$45 billion.
Implementing this project with "Egyptian hands" is a boost to Egyptian companies operating by providing job opportunities and saving the country from spending its much-needed hard currency, Alaa Waly, head of the parliament's housing committee, said in a statement.
"[Such projects] are not new to Egyptian constructing companies. They have the capacity and expertise to implement huge projects set forth by the state," Waly said.
Waly added that if Egypt waited for foreign financing, it would not have achieved its goal of establishing the new Suez Canal in one year.
Contrary to this, parliamentarian Mohamed Anwar el-Sadat said implementing this project locally is an unnecessary burden on Egypt's ailing economy.
"This project is not a priority to be put forward on the government expenditures' agenda, we can do fine without it until the country gets out of its economic woes," Sadat said.
The project, which will take at least six years to complete, is designed to ease congestion and overpopulation in Cairo. Announcing the plans in March 2015, Housing Minister Mostafa Madbouly called it a source of "pride and inspiration" for young Egyptians.
The first phase of the project, built on an area of 12,000 acres, includes the expansion of the outskirts of the current capital to the east, adding an additional 105km of development.
The management company of the project was established with a paid-up capital of LE6 billion, provided by the armed forces and the New Urban Communities Authority in equal parts, the house minister said previously.
Egypt had also signed a deal in October with China Fortune Land Development (CFLD) to develop and manage14,000 acres of the New Administrative Capital at a cost of US$20 billion as part of the second phase of construction of the new capital — this deal is still intact.
The second phase is expected to include factories, shopping malls, hospitals and universities in an area covering 70 square meters.