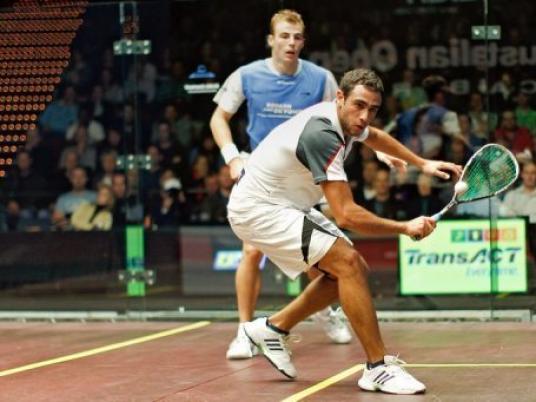 Ramy Ashour kept alive his hopes of becoming the first Egyptian in nearly half a century to win the British Open title with a performance of athleticism and great artistry which carried him into the semi-finals.
The former World Open champion from Cairo did that in a wonderful match against his friend and legendary compatriot, Amr Shabana, the younger man narrowly prevailing 11-8, 12-10, 5-11,1-11, 11-4.
The quality of the contest brought passion and warmth to a cool O2 arena, which made it even harder to believe that a succession of Egyptian greats has not won the world's oldest title since 1966.
The 32-year-old Shabana looked as though he might defy the years when he came back from a two-game deficit with a canny mixture of discipline and creativity, of good length and front court invention. In the end though, Ashour's faster movement and greater stamina proved crucial factors.
Shabana nevertheless offered plenty of signs that he has the desire to continue a long and distinguished career, including the unorthodox way in which he finished the match.
Infuriated with his failure to scrape a treacherous clinger from a sidewall in the penultimate rally, he smashed his racket into a crazy angle on the glass, and declined to leave the court to change the shattered equipment. Instead he volleyed Ashour's final service down with the mangled head.
"It's so much about what's happening inside my head," said Ashour. "I have to escape the bad things and find a soothing spot there.
"I am too emotional, I know. It just comes out. But it's a privilege to play against such a legend," he concluded, making reference to a head-to-head with Shabana which now stands at nine-all.
Ashour next plays the winner between another compatriot, Mohamed El Shorbagy, the former world junior champion, and James Willstrop, the world number one from England.
If he can survive that and finish a very tough task in Sunday's final the 24-year-old from Cairo will become the first Egyptian winner since Abou Taleb beat Aftaf Jawaid of Pakistan in the 1966 final at London's exclusive Lansdowne Club.
Meanwhile Egypt has earned a women's British Open finalist for the first time. That piece of history became certain after outstanding quarter-final wins for the 16-year-old Nour El Sherbini and the 23-year-old Raneem El Weleily, who next play each other.
Weleily saved two early game points against the world number two, Jenny Duncalf, the former British Open finalist from England, to win 12-10, 11-7, 11-5.
And El Sherbini, still studying for her grade ten school exams, won a thriller against Annie Au, the seventh seed from Hong Kong, by 9-11, 11-7, 11-6, 9-11, 11-6.