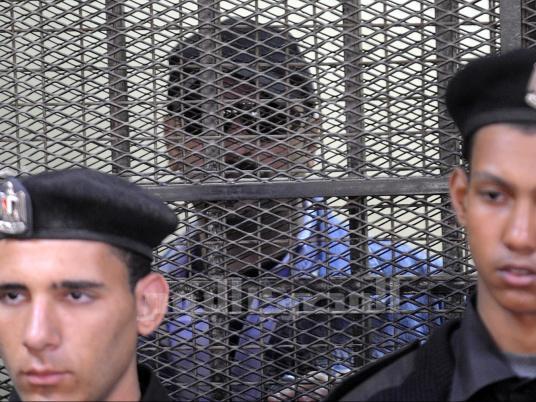 Cairo Criminal Court decided Tuesday to convene on 30 May to issue a verdict in the retrial of Mohamed Ibrahim Abdel Moneim, known as Mohamed al-Sunni, a policeman from the Zawaya al-Hamra Police Station sentenced to death for killing 18 protesters and wounding another three in front of the station on 28 January 2011.
Prosecutor Ahmed Rashad said he had no time to prepare his argument, but demanded the maximum penalty for the defendant on the basis that the court watched a video showing firing coming out of the station although it was not being attacked, which refutes the defendant's claim that it was in self-defense.
The plaintiffs also demanded the maximum penalty, saying that there were 35 eyewitnesses who said they saw the defendant firing bullets from an automatic weapon.
Sunni's lawyer, Hisham Abdel Salam, asked the court to discard the testimonies of 20 witnesses for saying that they "heard" but did not "see" the shooting. He requested that the court acquit the defendant for the absence of a criminal intent or attempted murder, as he was defending himself and his place of work.
On 15 January, after fleeing for 11 months, the fugitive policeman turned himself in to be tried on charges of killing protesters in front of the police station. Sunni claims he is being used as a scapegoat by the police and the Interior Ministry.
Cairo Criminal Court has already handed Sunni several sentences in absentia for killing protesters during the 25 January revolution, including two death sentences.
The prosecution in those cases said investigators proved that he willfully killed 18 people by firing a hail of bullets to kill them and intimidate other protesters.
Translated from Al-Masry Al-Youm