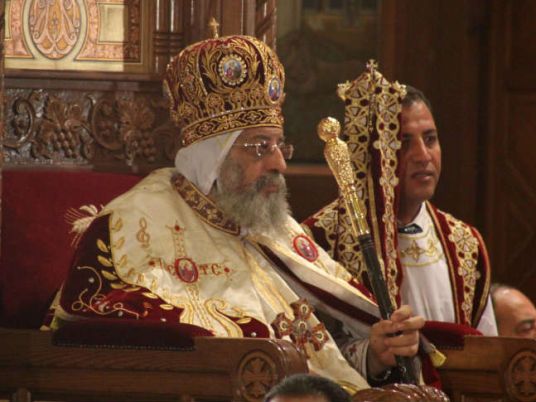 Pope Tawadros II of Alexandria's Coptic Orthodox Church met on Tuesday with the brother of the expelled monk who murdered Bishop Epiphanius of Waid al-Natroun's Saint Macarius Monastery.
The official spokesperson for the Coptic Orthodox Church, Priest Paul Halim, told Al-Masry Al-Youm that Tawadros II also spoke through the telephone to the monk's mother.
The Pope stated that Ash'eyaa's crime would not impact his brother, who is also a monk in Upper Egypt. Tawadros II explained that his wrongdoing should not reflect on the family who had nothing to do with the crime.
The Coptic Orthodox Church of Alexandria announced the Bishop's sudden death on July 29.
Bishop Epiphanius was found dead in front of his own monastic cell surrounded by a pool of blood. Monks at the scene immediately notified the Wadi al-Natroun police, who quickly revealed that the Bishop had fractures in the back of his skull, leading to suspicion of murder.
Over 400 people at the monastery, monks and workers alike, were interrogated on the murder as the surrounding locations were throughout investigated.
Ash'eyaa confessed to the killing on Saturday, and was earlier deprived from his ecclesiastical rank over behavior that violated his duties. Ash'eyaa added that he worked with fellow monk Faltaous al-Makary to carry out the killing. Faltaous attempted suicide last week and is under police watch at the Anglo American Hospital in Zamalek while he recovers.
Church sources said that Faltaous would also be stripped of his title in due time.
A church committee awaits the conclusion of the Public Prosecution investigations, the sources said, adding that the Church trusts in the integrity of Egyptian authorities to hand out the appropriate punishment for Bishop Epiphanius's murder.
Edited translation from Al-Masry Al-Youm