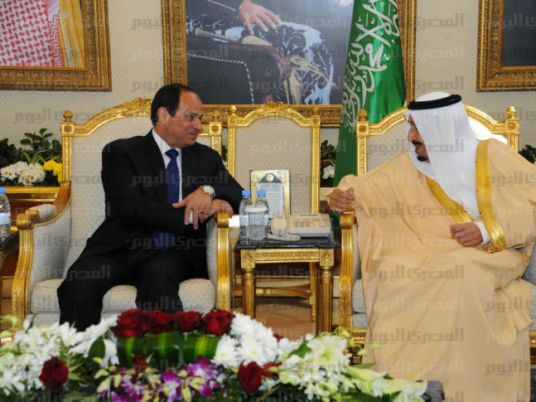 President Abdel Fattah al-Sisi and Saudi King Salman bin Abdulaziz held an Egyptian-Saudi summit at the Royal Court in Al-Yamamah Palace in Saudi Arabia on Sunday. The summit was attended by a large number of princes, ministers and senior officials in the Kingdom.
Ambassador Alaa Youssef, Spokesperson for the Presidency, said that the two leaders held a session of talks in the presence of delegations from the two countries.
The Custodian of the Two Holy Mosques, King Salman, welcomed the Egyptian president, stressing the depth and strength of historical relations between the two countries and the two brotherly peoples; he stressed his country's keenness to enhance consultation and coordination with Egypt in order to achieve the interests of the Arab and Islamic nations and their peoples, explaining that the Kingdom stands with Egypt, especially in its war against terrorism.
Spokesperson Youssef added that the President affirmed his appreciation of the strategic relations between the two countries, reaffirming his keenness to strengthen bilateral ties in various fields and to contribute to enhancing joint Arab action in facing the various challenges ahead for the Arab world at present.
He said that the talks involved consultations over some bilateral issues, with the two sides agreeing on the need to develop relations between the two countries in various fields and to invest in the opportunities and possibilities available to meet the aspirations of the two brotherly peoples.
He explained that during the talks, a number of regional files were reviewed, and the two leaders agreed on the importance of strengthening cooperation and Arab solidarity to stand united against the challenges facing 'The Arab nation'; and to end the crises currently plaguing a number of countries in the region, and restore security and stability in those countries.
As far as the main challenges facing the region, especially the fight against terrorism, the two sides agreed that the current stage in the Arab region requires more coordination of efforts and intensification of consultation among all concerned parties in the international arena; in order to formulate an integrated strategy to confront this phenomenon that is threatening the whole world.
The two leaders stressed the importance of confronting all attempts to interfere in the internal affairs of Arab countries; reitterating the need to block the way of any efforts aimed at spreading division among brothers, in order to preserve Arab national security as the only guarantee for the security and stability of Arab countries.