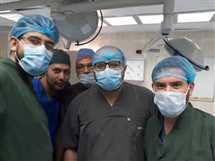 A medical team at al-Tor General Hospital managed to perform a delicate operation for a 7-month-old female child, Undersecretary of the Ministry of Health in South Sinai Khaled Abu Hashem said Thursday.
The infant Rokaya Salem was born with a congenital deformity that gave her three feet, he added.
The medical team which included surgeon Mohamed Adel Saqr, assistant professor of plastic surgery and repair at Zagazig University, and Dr. Mohamed Hamid Abdel Aziz, Assistant Lecturer of Anesthesiology and Pain Therapy at Ain Shams University, decided to perform the surgery which Hashem described the surgery as rare and unique, because the number of cases registered similar to it are few worldwide.
"The surgical difficulty facing these cases is the arterial sharing between the removed and remaining parts, which requires keeping the arterial supply during resection," said Abdel Aziz.
Difficulties facing anesthesia in these cases include the presence of some congenital deformities of the heart, spine and brain accompanied by deformity in the foot, he added.
Edited translation from Al-Masry Al-Youm