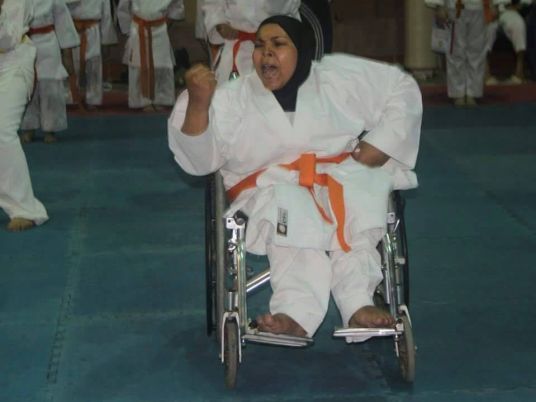 Is it possible to do karate in a wheelchair? At first glance, it may seem impossible especially as this kind of sports mainly relies on moving all body parts; but a young Egyptian woman named Eman Mourad succeeded in breaking through the limitations of her disability to become the first woman in Egypt and the Middle East to train and practice karate in a wheelchair.
As a child, Mourad was administered a faulty vaccine and contracted the Polio virus which causes muscle weakness and infantile paralysis. But this setback did not affect her passion for life and her dreams, as proved by her achievements. The 33-year-old started practicing karate in 2014 in Al-Bank Al-Ahly club; in less than three years she achieved a black belt and had received seven awards.
Mourad studied law and now is pursuing her Master's degree; she is also working as a social activist for an NGO that helps those with special needs integrate into society, as well as raising public awareness about disabilities and how to treat disabled people, especially children.
"I did not have any interest in sports and everything happened coincidently, but these few years changed me a lot; they changed my way of thinking and made my decisions more flexible," Mourad told Egypt Independent.
In November 2014, one of Mourad's friends, who is blind, won an international award for karate in Germany; however, the government did not give him the correct prize money so he asked Mourad to call the Egyptian Karate Union to take action.
Mourad negotiated with her friend's coach who then asked her to join the karate team. Initially she was surprised because she is older than most athletes and disabled. "I told him it's impossible; I'm in a wheelchair and cannot do karate," she said.
The captain persisted and Mourad agreed to start training, though she had no real target for herself. "I joined a training group for people with disabilities. To be honest I was not excited enough to receive training, I thought I was too old and weak. I missed several classes and was not interested in continuing. Sometimes the only reason I went to the club was to get coffee as they make really good ones, " Mourad recalled with a smile on her face.
Mourads's family gave her the push to carry on and she was surprised by her progress — in just a month and a half she received the orange belt and learned many karate kata (a formalized sequence of movements which represent various offensive and defensive postures). After three months, she received a gold medal in the Giza clubs competition. "During the grading exam the judge did not believe that I'm in a wheelchair," she said.
After winning the gold medal, Mourad felt the weight of responsibility and asked herself about her plans and if she really wanted to continue. "I decided to keep moving forward and to reach a goal of hitting records and become the first woman trainer in wheelchair in the world," she said.
Mourad worked very hard on her performance and fitness, training more than 10 hours per week. She travelled long distances in her wheelchair, went to the gym and followed a special diet, and despite being aquaphobic, she joined swimming classes to improve her fitness level.
She then embarked on a more challenging phase with greater difficulties: Mourad decided to integrate with fully-abled karate professionals. She left the club and joined another for able-bodied karate trainees from ages three to 30.
Training and competing against people with no physical limitations was a new struggle. "The new coach placed me according to my grade, I found myself with a group of little children. In the beginning it was not comfortable practicing with normal people, I was so embarrassed to perform freely in front of them and I was afraid to hit accidently a child with my wheelchair during training," she said.
The coach understood her concerns so he asked her to train with him one-on-one before joining the group. He saw her performance and said: "Your job is to change people misconceptions toward disabled individuals, yet you feel ashamed to train with them now?"
"His words hit my heart strongly, I decided to join the team and really it was easier than I expected and I integrated with them very easily," she said. "My captain told me in the first class: 'you are not a hero, you are talented, but one day you could be hero'. This spurred me on."
After a few weeks, Mourad had another grading examination. Unlike previous exams, the judge did not ask her to perform all karate forms, unlike the other trainees, and she was awarded a different belt color.
"I was furious because he did not really test me, and I was not awarded for my performance. I asked to show him my performace and he accepted; after the examination he thanked me, saying that I taught him a new lesson: to not judge people by their appearance," she explained.
After a while, Mourad's coach suggested she become a coach herself and following his advice, she registered with the Syndicate of Sport Professions. She is currently working on a karate training course and hopes to become the first wheelchair-bound trainer in the world.
"I've already formed a small team of karate trainees in wheelchairs but I'm hoping to expand it to become the first coach to a karate team for wheelchair-bound players," she said.
Mourad's had wished to compete at the Rio Olympics in 2016. The Egyptian Olympic team was selected a one week before travelling, and no one with a local rank was chosen. But she did not lose hope, she is working to compete in the 2020 Olympics.