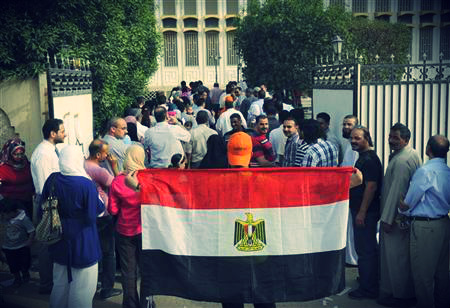 A new governmental decision to not renew the releases from domestic jobs for Egyptians working abroad has caused outrage among workers.
The Al-Masry Al-Youm "Sharek" (Participate) section received a message from members of the society of people who work abroad, originally from El-Menyia, saying the decision "does not play in Egypt's best interests, nor in Egyptian people and students best interest," adding that it will be difficult to implement as it "harms the country before the citizens" and hoping the "government would take it back."
The message added, "we, educators, doctors and engineers, did not leave our beloved country Egypt except through contacts that Egypt has previously approved of. We also obtain a work permit every year. We now also have a life abroad, we settled and our children go to schools. We have never forgotten Egypt through her past hardships and gave her difficult currencies."
Finally, the message concluded, "us coming back to Egypt will only add to its burden and budget deficit as it will need to give us monthly salaries. We used to pay an annual amount to the country's treasury now they have to pay us… so what's the solution? Should we leave our jobs abroad after being used to a certain life and return?"
There are 9.5 million Egyptians abroad, Minister of Immigration Nabila Makram said, basing her estimate on the Central Agency for Public Mobilization & Statistics. Makram added that she believes there are even more Egyptians abroad.
Remittances from Egyptians working abroad since the flotation of the pound currency in November 2016 until the end of December 2017 reached US$29 billion, up by US$4.7 billion, representing a 19.2 percent jump, compared to the same period last year, according to a statement by the Central Bank of Egypt (CBE) released in February.