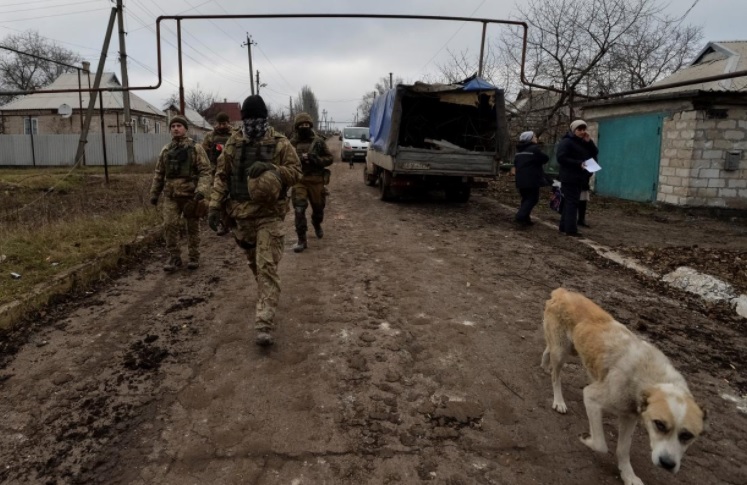 Twenty Egyptians have made it to a border camp in Poland, western Ukraine, after a long day traveling by road, with some walking on foot after their cars stopped working with no gasoline.
The head of the Egyptian community in Ukraine, Waleed Attia, said on Friday that while the situation is looking bad, the Egyptian expatriates remain safe so far.
He added that several Egyptian students have succeeded in reaching the border with Poland, and that they will enter Poland in Saturday morning with the completion of the procedures for obtaining entry visas.
"Poland has become a difficult choice, as it has been reported that the Ukrainian-Polish border will be closed, and that Romania is the only country currently open to the displaced from Ukraine," Attia explained.
Russian President Vladimir Putin announced Thursday the start of a large-scale military operation in the Donbas region of Ukraine.
The Egyptian Minister of Immigration and Egyptians Expatriates Affairs Nabila Makram held a meeting on Saturday with representatives of the Egyptian community in Ukraine, which included some Egyptian students present in various Ukrainian cities, to follow up on their conditions in light of developments in the Russian-Ukrainian conflict.
Makram urged Egyptians in Ukraine to abide by the places they are staying in and not to leave, especially in the areas in the east and south seeing heavy clashes.
Egyptians who are able to leave towards Romania and Poland should inform the Egyptian embassy in Kiev first, and communicate immediately with the Egyptian embassies in the two countries, until the relevant authorities there are addressed, she added.
Makram assured that there is continuous follow-up to developments in the situation and that all the needs of the Egyptian community in various cities.
All developments related to Egyptians in Ukraine are being submitted to the relevant state agencies, she added.
The minister also urged caution about the spread of misinformation and to only trust information from official Egyptian government agencies, especially the Egyptian embassy in Kiev, in the interest of the safety of all Egyptians in Ukraine.