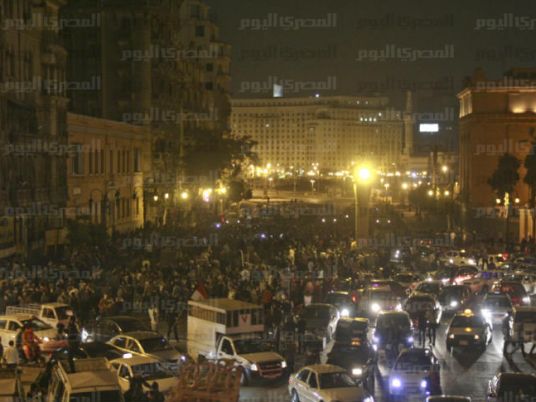 About 50 Egyptians staged a rare anti-government protest in downtown Cairo on Wednesday night, security sources and witnesses said, four days before the anniversary of the popular uprising that toppled autocrat Hosni Mubarak in 2011.
They shouted "down, down with military rule" and "the people want the fall of the regime", slogans heard four years ago when protesters called for democracy and economic prosperity.
Security forces used teargas and birdshot to quickly disperse the crowds in central Cairo, said the security sources. Thirteen people were arrested.
Human rights groups accuse the government of widespread abuses and say authoritarian rule has returned to the most populous Arab country.
President Abdel Fattah al-Sisi said this week Egyptians have the right to protest but cautioned that demonstrating now could cause more harm to the battered economy.
Human rights activists say a law restricting protests and other security legislation enacted by Sisi in the absence of a parliament have rolled back freedoms won in the 2011 uprising.
Sisi was elected virtually unopposed last May, almost a year after the military he then led toppled freely elected president Mohamed Mursi of the Muslim Brotherhood.
The Brotherhood, which has been weakened by one of the toughest crackdowns against the movement, has called on Egyptians to stage mass protests to mark the 18-day uprising.
A security crackdown under Sisi's watch ended months of economically ruinous anti-government unrest and jailed thousands of Islamists and liberal activists alike, including people for demonstrating without a police permit.
Egypt will hold a long-awaited parliamentary election in two phases starting in March. Sisi hopes the vote will deliver stability after years of upheaval. Critics call the vote a sham given what they say is a clampdown on political freedoms.