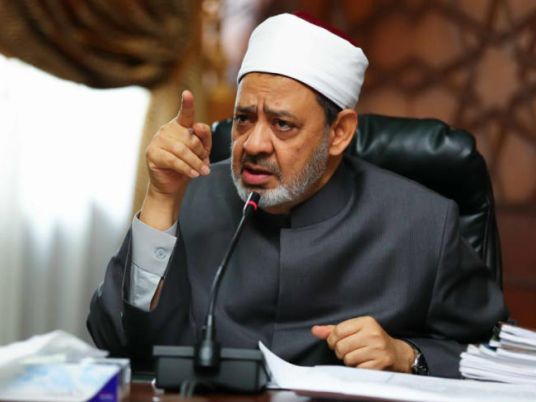 Al-Azhar mosque, the most prestigious religious institution in the Sunni Muslim world, has issued a statement denouncing sexual harassment following recent incidents where people have been attacked trying to stop it.
"We have followed media reports on recently circulated incidents of (sexual) harassment. In some of them the harasser assaulted those who tried to stop him," Azhar said in a statement on Monday.
"Some sought to make the clothes of a woman or her behavior a pretext to justify the harasser's terrible crime, as if the woman was responsible for the sin."
"Azhar stresses that harassment is haram and deviant behavior, and whoever commits it is guilty of sin. It is also a repugnant act to normal people, and it is rejected by all laws and religions," Azhar added.
Azhar asserted that the criminalization of harassment and harassers must be absolute,  impartial from any condition or context. Justifying harassment because of the woman's behavior or clothing expresses a misguided understanding as sexual harassment is an assault against privacy, freedom and dignity.
Azhar called for laws to be enforced that criminalize sexual harassment and punishes it. It also called on the concerned institutions to raise awareness of the forms of harassment and its dangers, urging the media to avoid broadcasting any material that promotes harassment or encourages harassers.
Through the Islamic Research Academy (AIRA), Azhar launched on Tuesday an extensive awareness campaign to confront sexual harassment, which only brings strife to society and violates higher values. The members of the campaign are spread throughout all villages, cities and governorates across Egypt.
Secretary-General of AIRA Mohie Eddin Afifi said that the campaign will be deployed in youth centers, clubs, cafes and police stations, as well as mosques to reach a broader audience and warn them.
National holidays in Egypt have become associated with a peak in sexual violence and increased incidents of harassment and rape. Most recently on Friday, a man was murdered on an Alexandria beach for reportedly defending his wife from an unstable harasser.
In October, Cairo was named as the most dangerous mega-city for women by an international poll, with women's rights experts saying the treatment of women in the Egyptian capital has worsened since the 2011 uprising seeking social change.
Cairo came out worst when the Thomson Reuters Foundation asked experts on women's issues in 19 mega-cities how well women are protected from sexual violence, harmful cultural practices, and access to healthcare and finance.
A study by UN Women in 2013 found that 99.3 percent of the Egyptian women and girls surveyed reported having been subjected to verbal or physical harassment at some point in time.
In 2014, sexual harassment was finally criminalized in Egypt after the government approved a law punishing harassers with imprisonment of no less than six months, and/or fines of LE 3,000 to LE 5,000.
Edited translation from Al-Masry Al-Youm