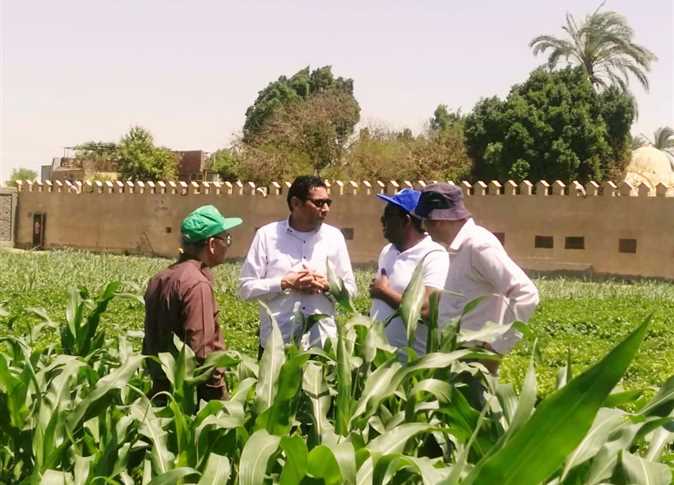 The Ministry of Agriculture and Land Reclamation announced a state of extreme emergency in Upper Egypt's various southern governorates over the potential arrival of the fall armyworm, described by agricultural experts as a devastating pest.
This insect causes total collapse in the productivity of crops, especially corn, rice, vegetables, and cotton crops, and more than 80 other agricultural types of crops.
Minister of Agriculture and Land Reclamation Ezz Eddin Abostait instructed the ministry's directorates in Upper Egypt to deal with pest in case it travels from Sudan to Egypt. He instructed taking precautionary measures and the formation of committees to inspect crops in Upper Egypt's various governorates.
Head of the Central Administration of Pest Control Mamdouh al-Sebaei said that as part of the precautionary measures taken by the Ministry of Agriculture to address the fall armyworm, the Central Administration for Pest Control has prepared a program to spot the insect if it enters Egyptian territory.
A training course will be launched in cooperation with the UN's Food and Agriculture Organization (FAO) for 35 engineers and researchers from the directorates of agriculture in the governorates of Fayoum, Beni Suef, Minya, Assiut, Sohag, Qena, Luxor and Aswan, in order to address the fall armyworm issue.
Sebaei added that training programs have been implemented on how to detect the infection using the mobile application as the latest technology used to deal with the serious insect in case of entering the country to facilitate field testing and electronic data recording.
Sebaei explained that the training program included lectures, and field visits to maize crop, being the preferred crop of the pest.
An official report issued by the Ministry of Agriculture in collaboration with the FAO announced a joint program to identify the fall armyworm with the participation of specialists from eight governorates of southern Egypt, as well as the Central Administration of Pest Control.
The report stressed that the pest's entry into the country will severely impact Egypt's agricultural crops. Combating the armyworm's entrance will require awareness campaigns between farmers and agricultural engineers, and the preparation of trainees.
The FAO provided the Ministry of Agriculture in Egypt with the basic requirements of inventory and monitoring programs as well as traps for the pest, the report said, calling on farmers to inspect their fields systematically and to inform authorities if they suspect the fall armyworm is present.
Edited translation from Al-Masry Al-Youm