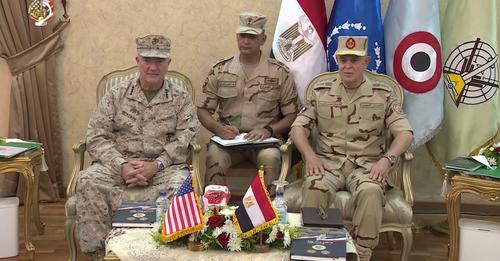 The Chief of Staff of the Egyptian Armed Forces, Mohamed Farid, met with US Central Command head Kenneth McKenzie and his accompanying delegation, who is currently visiting Egypt to follow-up the joint training "Bright Star 2021", which will continue until September 17 at the Mohamed Naguib Military Base.
The meeting discussed topics related to training and how it serves to exchange experience among all participants, and how the training represents in a rich military environment to learn about everything new in all military disciplines of various weapons.
Farid stressed the keenness of the General Command of the Armed Forces to follow up on all activities being carried out on a daily basis and to create an atmosphere allowing all those in training the ability to carry out the tasks and training activities entrusted to them.
Farid and McKenzie also toured the command and control centers to follow up on the work mechanisms for joint planning to manage training tasks.
McKenzie expressed his admiration for the ability of the Egyptian armed forces to organize the activities of this event, one of the most important and largest exercises carried out in the Middle East.
He also praised the high combat efficiency of all units participating in the training, as well as the training and administrative capabilities of the Mohamed Naguib base and the training fields equipped to train the various combat and specialized elements.