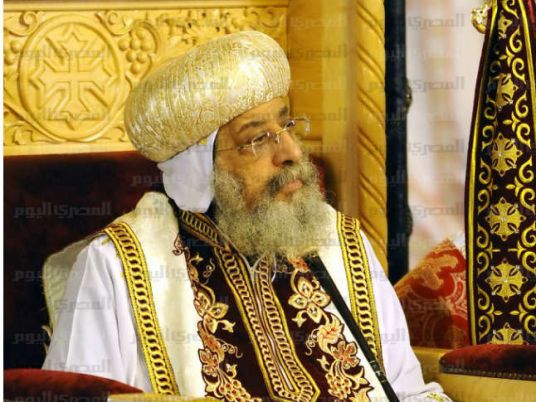 Pope Tawadros II, the Pope of Alexandria and the Patriarch of the Diocese of St. Mark, announced Friday that he ordered an internal investigation into the killing of a priest in a church in Shubra al-Kheima.
During an interview with the CTV channel, the pope explained that this investigation comes aside from the general prosecution and police's work, and aims to identify the reasons that led to this incident to prevent it.
He lamented the killing, calling it painful and said that even it is already a criminal act, the fact it involves a priest and church has given it greater dimension.
"It is a criminal act, and we have to contain the matter. Of course, we are suffering and sad, we did not like that the end of a priest be like this," he said.
The Public Prosecution office in Shubra al-Kheima, Qalyubiya governorate on Tuesday detained the suspect in the killing of a priest of St. Mark's Church for four days pending investigations.
The prosecution charged the suspect with premeditated murder, possession of an unlicensed firearm and firing of the same gun. The prosecution also requested the final forensic medical report on the detained person.
On Monday, security forces detained Kamal, 54, the janitor of St. Mark's Church, after he surrendered to the police and admitted to killing the church priest Maqar, 65, in the midst of a financial dispute after a quarrel between them.
The preliminary investigations found that Kamal fired several shots at the priest from a firearm (pistol) in his possession, causing his injury (a shot to the head). The priest died instantly.
The victim had promised the suspect to help him accrue marriage costs for his two daughters by giving him money, and he did not do so. Two days previously he had provided the perpetrator financial support of LE1,000.
The suspect then requested another sum of money from the victim, who refused, leading to a verbal argument. The perpetrator fired several shots resulting in the priest's death.
Edited translation from Al-Masry Al-Youm