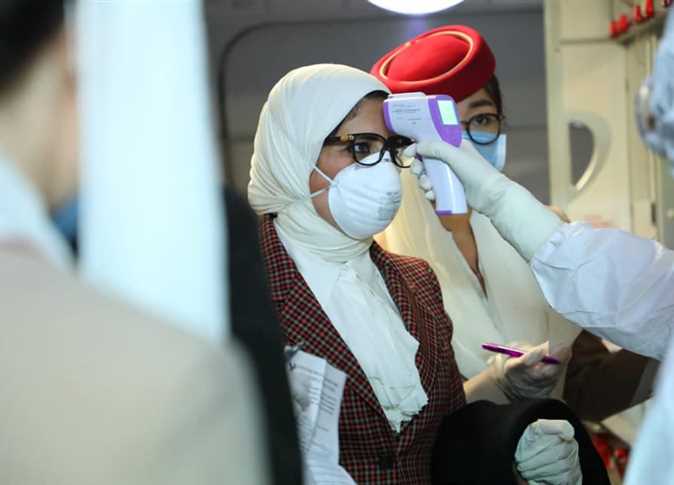 Minister of Health Hala Zayed and a delegation from Egypt will return from an official visit to China by the end of this week and will enter a mandatory two-week quarantine period upon their arrival in Egypt, Spokesperson for the Ministry of Health Khaled Megahed said.
The Egyptian delegation hoped to exchange expertise with Chinese officials during the March 1 visit to boost efforts to confront the spread of coronavirus, which has infected over 3,000 in the Middle East so far.
Many of those cases are in Iran, where 92 people have died from the virus.
During a phone interview with the "Alaa Masaolity" TV program on Sada al-Balad channel, Megahed explained that President Abdel Fatah al-Sisi assigned Zayed and the delegation to convey to the Chinese side a message of solidarity and support for their ongoing fight to contain the coronavirus, measures that includes locking down numerous cities and imposing travel restrictions.
During the visit, Zayed and the delegation all received a medical examination to ensure that they were not infected with coronavirus, or COVID-19, and also received recent technical documents from China on the development of coronavirus and its spread.
Zayed praised Chinese efforts to confront the virus, which has now infected more than 93,000 people worldwide and killed over 3,000.
Italy has also reported 79 deaths related to COVID-19 in the country. Meanwhile, over 5,000 having been diagnosed with COVID-19 in South Korea, another major hotspot for for the virus outside mainland China, where the number of new cases has continued to drop.
Egypt confirmed its second case of the virus on Monday. The first case — a Chinese national — was quarantined and eventually cleared of the virus before being released last week, according to an announcement from the World Health Organization and the Egyptian government.
Also last week, two individuals returning from Egypt to France were reported to be in serious condition after coming down with coronavirus, although it remains unclear where they contracted the illness.
Although EgyptAir previously announced on February 20 that flights to and from China would resume starting February 27, the airliner quickly reversed its decision, citing "technical reasons," and announced that flights would not resume until March 14.
Edited translation from Al-Masry Al-Youm