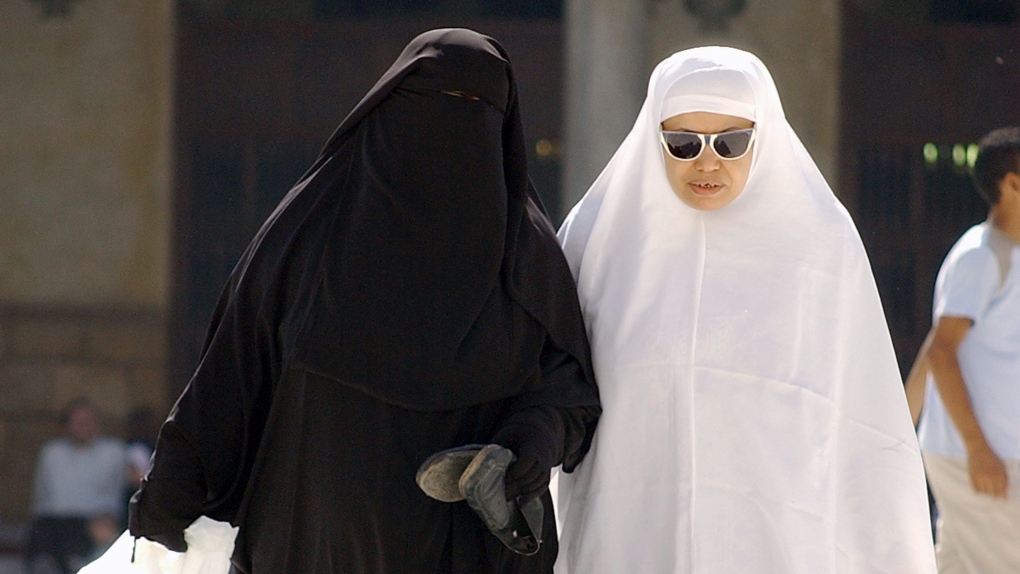 Egypt's High Administrative Court approved on Monday Cairo University's decision to ban its professors from wearing the niqab, or face veil, ending a controversy that began five years ago over whether or not banning the niqab in public spaces violates personal freedoms or constitutes religious discrimination. 
The court stated that individual choice of dress is among the "personal freedoms" guaranteed by the Egyptian constitution, adding that one should not be restricted by any limitations imposed by the administration. However, the court also said that this freedom is not without "limits," stressing that personal freedoms should not contradict with what it called "public morals." 
In 2015, Cairo University decided to ban female staff members donning a type of veil worn by a minority of Muslim women that covers the face entirely, except for the eyes. The university justified the decision to ban the face veil by arguing that niqab negatively impacts the ability of women who wear it to communicate. 
"It is not allowed for academic staff at any of the university faculties to teach theoretical and practical lessons or attend a laboratory or practical training while wearing niqab," reads the Cairo university statement released in 2015. 
An administrative Court later upheld the decision in 2016. 
The court further explained that the allowance of the niqab violates article 96 of the law regulating universities across Egypt, which binds university staff to university rules.
In addition, the court asserted that professors should not have their faces hidden while dealing with students during academic lectures, underlining the importance of clear and direct communication between the academic staff and their students. 
Dozens of students and faculty protested in response to the ban, and university staff members who wear Niqab published a statement in 2015 condemning the step and describing it as "racist," arguing as well that communication is not limited to facial expressions. 
Meanwhile, Mohamed Kamal, a professor at Beni Suef University, previously told Al-Masry Al-Youm that the measure is "at odds with many constitutional provisions," adding that it involves "racism against a particular dress code that does not conflict with the law or social traditions."
In December, Amna Noseir, a professor of Islamic philosophy at Egypt's top Islamic institution Al-Azhar and a member of Egypt's 2014 constitution drafting committee, called for issuing a law banning the niqab in all public places, according to Ahram Online. 
Back in 2009, Al-Azhar University banned the niqab in university classes and dormitories after Grand Sheikh Mohammed Sayyed Tantawi ordered a student to remove her face veil while visiting an academy associated with Al-Azhar, and niqabs were later banned during exams at Cairo University, prompting heated debate. By 2012, Egypt's minister of higher education said that female students wearing face veils should no longer be banned from sitting for their university exams. Instead, students wearing the niqab would be allowed to take their exams after their identities are checked by a female staff member.
France, where public displays of religiosity are often a point of controversy, banned the face veil in 2010, citing security concerns. In response, the United Nations Human Rights Committee called the move a violation of Muslim women's rights and warned that it threatened to confine marginalized minorities to their homes, according to a 2018 report from CNN.
Denmark and the Netherlands have passed similar laws.
Image: Muslim women, wearing a niqab, left, and at right a khemar, leave Al-Azhar Mosque after Friday prayers in Cairo, Egypt Friday, on Oct. 27, 2006 (AP Photo/Mohammed Sehety)