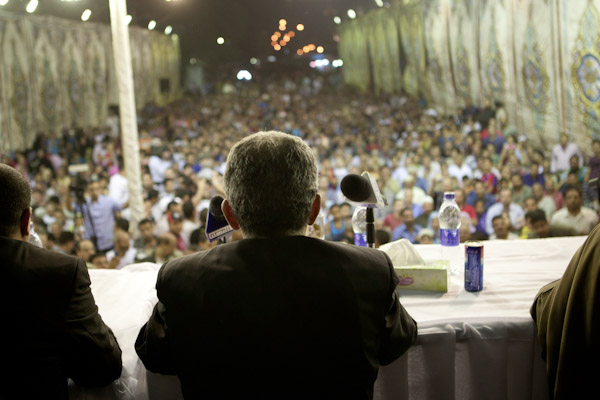 CAIRO — Egypt's former foreign minister Amr Moussa on Monday declined to endorse either of the presumed candidates in a presidential election runoff, rejecting both a religious state and a "return to the old regime."
Moussa spoke as unofficial figures showed that Muslim Brotherhood candidate Mohammed Morsy was set for a second round runoff against Ahmed Shafiq, the last prime minister under ousted president Hosni Mubarak.
Both candidates have already called on their former rivals, including Moussa, to join with them, but the former foreign minister — who appeared to have come fifth in the first round vote — declined to endorse either.
A "return to the old regime is unacceptable. So is exploiting religion in politics," he told a press conference.
"Egyptians will only be comfortable with a civil state. A religious state is something very divisive," he warned.
Moussa had said before the presidential election, the first since Egypt's 2011 uprising, that he would retire from politics if his bid failed.
On Monday, however, he left the door open for talks with the other parties.
"I will not be consulting with anyone. If they want to consult with me, I will consider it," he said.
Moussa, who served as foreign minister under Mubarak before becoming head of the Arab League, had been expected to do well in the presidential vote, which saw 13 candidates competing for the votes of some 50 million eligible Egyptians.
But unofficial results suggested he had come fifth, behind third-placed Nasserist candidate Hamdeen Sabbahi and fourth-placed moderate Islamist Abdel Moneim Abouel Fotouh.
Egypt's electoral commission was expected to publicly announce the official results of the first round vote later on Monday.