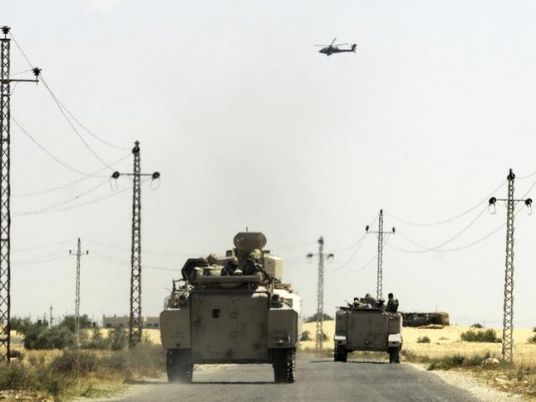 Egypt's Interior Ministry announced on Tuesday that 13 terrorists were killed during a shootout with police forces raiding a terrorist hideout in al-Obour at al-Arish, North Sinai.
A statement by the ministry said that the National Security Agency was tipped regarding a terrorist group hiding out in a deserted house in a farm at Hous district, al-Obour, who were preparing to carry out an attack.
According to the statement, the group was involved in a series of hostile operations against the armed forces and the police, and were seeking to escalate their plans to destabilize security and undermine the nation.
The security agencies processed this information and raided the hideout, the statement said. As the forces approached, the terrorists opened fire at them resulting in 13 of them being killed.
"Nine automatic weapons, four rifles, an explosive devices, and two explosive belts were found in the possession of the terrorists," the statement said.
Police filed a report on the incident and referred it to the Supreme State Security Prosecution for further investigations.
Egypt has been battling a wave of terrorism which has killed hundreds of security forces and personnel since the army toppled late President Mohamed Morsi in 2013, in response to mass protests against his one-year rule.
Edited translation from Al-Masry Al-Youm