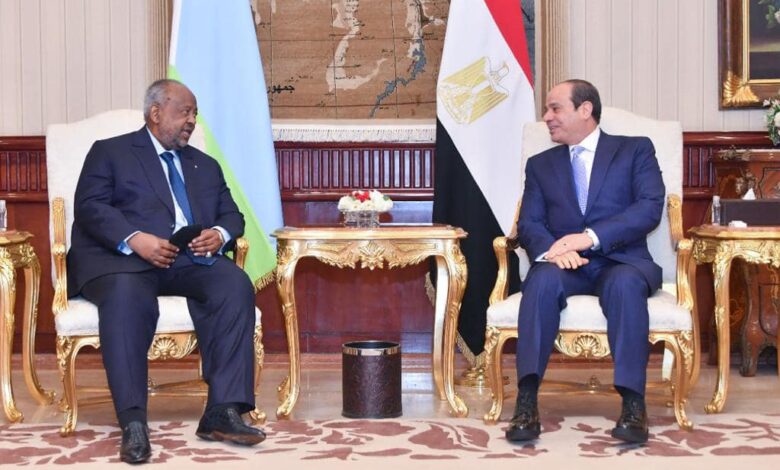 Egyptian President Abdel Fattah al-Sisi on Monday received the President of Djibouti Ismail Omar Guelleh in Cairo at the Ittihadeya Presidential Palace.
The meeting saw individual talks between the two presidents leading to expanded discussions in the presence of the delegations of the two countries, according to Egypt's presidential spokesperson Bassam Rady.
Egypt desires to strengthen its strategic cooperation with Djibouti to establish a sustainable partnership between the two countries, in order to help establish peace and stability in the region.
Sisi touched on developing bilateral cooperation projects with Djibouti in the near future and to overcome any obstacles especially regarding infrastructure, energy, health, aviation, education and small and medium enterprises.
He also discussed the increase in intra-regional investments and the upgrading of trade exchange rates between both nations including by strengthening efforts to establish the Egyptian logistic zone in Djibouti, as well as intensifying the technical support programs provided to the Djiboutian side.
This comes in addition to diversifying and strengthening joint cooperation in the military and security, to better combat terrorism ideologies.
President Guelleh on his end expressed his country's mutual interest to develop bilateral relations with Egypt, especially now when the Horn of Africa and the Red Sea region are witnessing successive challenges which necessitates intensifying cooperation with Egypt due to the pivotal role it represents in the region in maintaining peace and security.
He noted Egypt's continued keenness to meet the development needs of his country, praising the depth of the close historical relations between both nations and Egypt's desire to achieve stability in the Horn of Africa – as showcased by the great support it has shown Djibouti.
Rady said that meeting also touched upon the latest regional developments of mutual interest, especially with regard to the issues of the Horn of Africa and the security of the Red Sea, as well as the Grand Ethiopian Renaissance Dam, where it was agreed to strengthen coordination and joint intensive consultation to follow up on all developments.
At the conclusion of the talks, the two presidents witnessed the signing ceremony of some memoranda of understanding between the two countries in political consultation, energy and renewable resources, and the establishment of the Egyptian logistic zone in Djibouti.