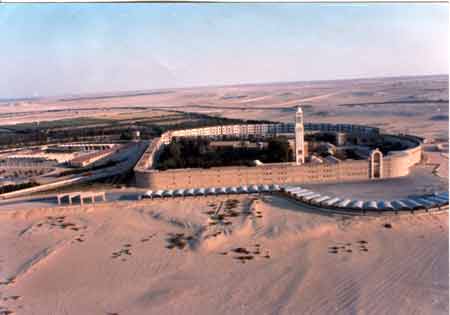 The Holy Synod of the Coptic Orthodox Church in Egypt announced on Saturday that the Saint Macarius Monastery at Wadi al-Natroun is temporarily closed for public visits until the situation inside improves following the killing of Bishop Epiphanius, the monastery head.
Secretary of the Holy Synod Bishop Daniel told Al-Masry Al-Youm that Pope Tawadros II made the decision following Epiphanius's death.
Daniel pointed out that the families of monks may still visit them and that contrary to some reports workers are still free to visit. Daniel added that security forces are now present outside the walls of the monastery as guards, and investigations inside the monastery have concluded.
He urged Coptic Christians to bear with the decision, and that the monastery will be open to the public again soon following instructions by the Monastic Committee, who will establish specific days the Monastery will be open to the public.
The Coptic Orthodox Church of Alexandria announced the Bishop's sudden death on July 29.
Bishop Epiphanius was found dead in front of his own monastic cell surrounded by a pool of blood. Monks at the scene immediately notified the Wadi al-Natroun police, who discovered that the Bishop had fractures in the back of his skull, leading to suspicion of murder.
Egypt's Public Prosecution office in Alexandria last month referred two monks to criminal trial over the murder of Bishop Epiphanius.
The Public Prosecution charged Ash'eyaa al-Makary (Wael Saad Tawadros) and Faltaous al-Makary (Raymon Rasmy Mansour) with premeditated murder.
Edited translation from Al-Masry Al-Youm