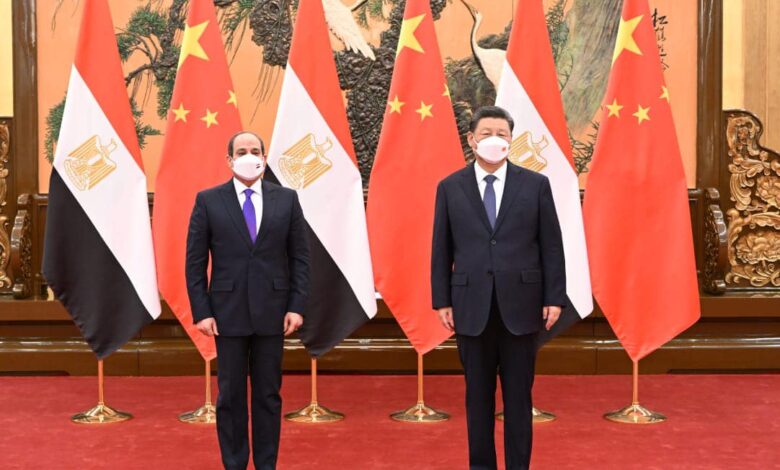 Egyptian President Abdel Fattah al-Sisi held summit talks with Chinese President Xi Jinping on Saturday morning at the Great Hall of the People in Beijing.
The official spokesperson for the Egyptian Presidency Bassam Rady, said that the Chinese president valued the positive development brought on via the comprehensive strategic partnership between both nations – especially in the economic and trade fields.
China attaches special importance to its relations with Egypt in view of the pivotal role of Egypt in its regional surroundings across the Middle East, Africa and the Eastern Mediterranean, he added.
President Sisi affirmed Egypt's desire to build on the momentum resulting from the regular meetings held between senior officials from both nations, in an effort to attract more Chinese investments to take advantage of promising investment opportunities currently available within Egypt.
Chinese companies enjoy a good reputation in Egypt, Sisi said, adding that they are one of the most important sources of foreign direct investment and advanced technological expertise in some Egyptian economic sectors.
Rady also added that the meeting held discussions on enhancing existing cooperation between the two countries in scientific research activities, technology transfers related to the pharmaceutical industries, the manufacture of coronavirus vaccines, and industrial technologies.
Sisi also discussed enhancing cooperation in communications, information technology, and electric cars, as well as maximizing cooperation between health care providers in the two countries to transfer China's expertise in combating the coronavirus pandemic.
The two presidents agreed on the importance of the role that the Suez Canal Economic Zone plays in promoting China's "Belt and Road" initiative and supporting its achievement of its desired goals, especially through the Egyptian-Chinese zone for economic and trade cooperation.
This contributes to pushing Egypt's efforts to employ the important strategic location of the Suez Canal axis in an effort to become a global logistics and economic center.
The spokesperson added that the meeting also touched on a number of regional and international issues of common interest, foremost of which are the developments of the Grand Ethiopian Renaissance Dam, the Palestinian cause and crises in Libya, Syria and Yemen.
The two sides agreed on the importance of continuing consultations at the bilateral level through international organizations and forums, as well as enhancing mutual cooperation in combating terrorism.