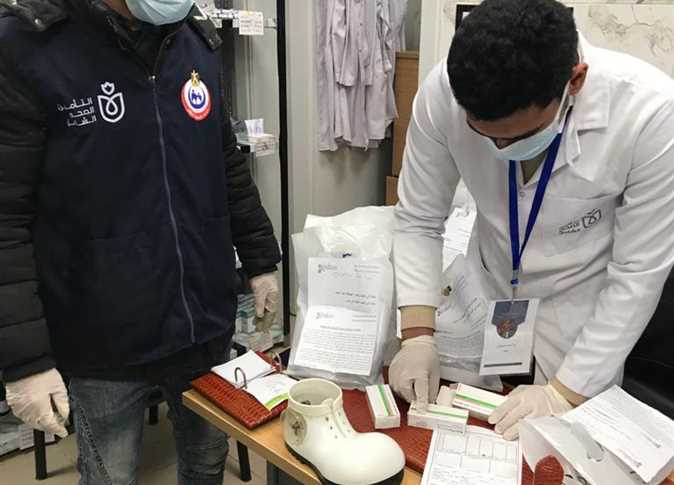 Egyptian President Abdel Fattah al-Sisi decided on Sunday to increase by 75 percent monthly allowance for medical professionals, which provides compensation for working conditions, at a total cost of about LE 2.25 billion. Sisi also ordered the establishment of a risk fund for healthcare workers in hospitals across the country.
The decision includes physicians working at university hospitals.
The announcement came during President Sisi's meeting with Prime Minister Mostafa Madbouly and the ministers of Defense and Military Production, Higher Education and Scientific Research, Finance, and Health and Population.
The President's Adviser on Health and Prevention Affairs and the Director of the Medical Services Department of the Armed Forces were in attendance as well.
The President has also ordered that bonuses be provided to all employees currently working in isolation, fever, and chest hospitals and central laboratories across Egypt, provided that the money comes from the Tahya Misr Fund.
During the meeting, Sisi expressed his appreciation for all healthcare workers in Egypt on the frontline of the coronavirus outbreak.
The spokesperson for the Egyptian Presidency Bassam Rady said that the meeting covered the measures taken so far to combat the spread of the virus, with 609 cases and 40 deaths having been confirmed in Egypt as of Sunday.
The President stressed that combating the spread of coronavirus is an international issue that calls for solidarity, collective awareness, and coordination between government agencies and citizens alike.
Sisi directed authorities to study the possibility of local manufacturing of medical supplies and devices in accordance with international standards, discussing as well efforts to alleviate any shortage of needed medical supplies amid the outbreak.
For its part, the Minister of Health and Population reviewed the current situation in Egypt until Sunday in terms of case numbers and deaths, noting that the rates of disease transmission in Egypt are low compared to numbers worldwide.
The Minister of Higher Education, meanwhile, reviewed the efforts made by university hospitals to combat the spread of coronavirus, including the current supplies of necessary equipment and the number of medical staff.
Nations around the world have confirmed over 700,000 cases of coronavirus and upwards of 34,000 deaths.