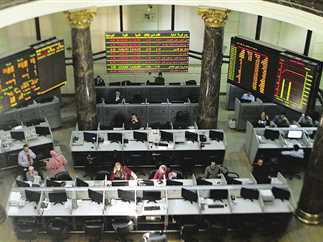 The Egyptian Stock Exchange tumbled on Tuesday after Ethiopia announced the start of the second filling of the Grand Ethiopian Renaissance Dam (GERD)'s reservoir, according to Reuters.
The main Egyptian index fell in the first hour of trading on Tuesday by about two percent, amid weak trading values, after Ethiopia last night informed Egypt and Sudan of the start of the second filling of GERD reservoir.
By 08:47 GMT, the main index of the market fell by 1.88 percent to 10,153.3 points, with a value of trading of LE 236.3 million, Reuters reported.
The stock of Commercial International Bank fell by 1.3 percent, Talaat Moustafa Group fell by 4.6 percent, Fawry fell by 1.8 percent, El Sewedy Electric fell by 2.6 percent, Pioneers Holding stock lost 4.7 percent, and Beltone stock lost 2.6 percent.
Rania Yaqoub, Chairman of the Board of Directors of the Three-Way Securities Brokerage, urged calm, saying, "What is happening is fear operations by individual investors, which pushes them to sell in the market. The market will consolidate during the end of trading. As long as there are no strong sales from institutions on the leading stocks in the market, then there is no cause for concern."
The Egyptian Stock Exchange suspended trading on 37 stocks for 10 minutes after falling more than five percent, and Egyptian stocks lost about LE 12.3 billion (US$ 783.4 million) of their market value in the first hour of Tuesday's trading.
Egyptian Minister of Irrigation and Water Resources, Mohamed Abdel-Ati, issued a statement Monday in which he said that he had received an official letter from his Ethiopian counterpart stating that Ethiopia has begun the process of filling the second filling of the GERD reservoir.
Abdel-Ati addressed an official letter to the Ethiopian minister to inform him of Egypt's flat refusal of this unilateral measure, which is a clear and dangerous breach of the Declaration of Principles Agreement.