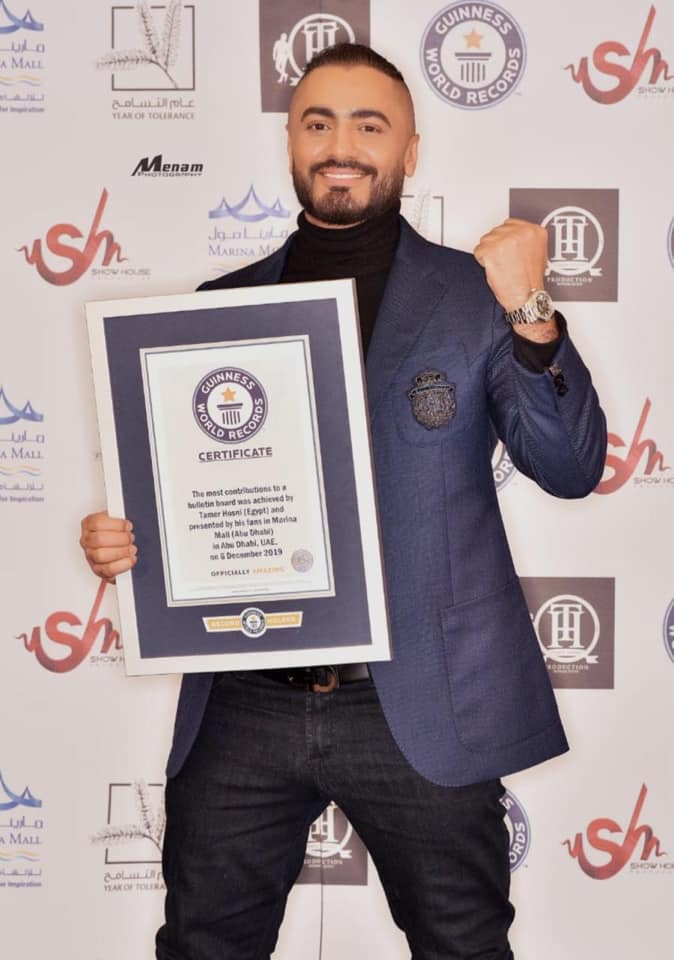 Egyptian star Tamer Hosny has officially broken his second Guinness World Record — this time for most contributions to a bulletin board — during an event in Abu Dhabi's Marina Mall on Friday, December 6.
For four consecutive days, fans were able to leave notes for the singer and actor on a bulletin board located in Marina Mall.
"The record to break was 4,900 contributions. Today you achieved 12,086 contributions," a representative from the organization announced on stage during the event.
Hosny broke his first Guinness World Record in 2016 for organizing a wide-scale blood donation campaign entitled "Pulse of Life."
"When I was nominated for a Guinness World Record, I was honestly very worried with the title. I withdrew from two previous nominations… With time, and with the persistence of the offer, I felt that something was calling for it," Hosny told Arab News.
During the same interview, Hosny explained that breaking the record required a lot of help from his fans from around the globe.
"This required a lot of confidence in my fans for them to come from different continents in just four days," he said.
Hosny has also received a number of other awards, including Best Arab Artist at Murex D'Or in 2014 and 2016, as well as Best Arab Artist at the Middle East Music Awards in 2015.
The Egyptian star performed last March at the Zayed Sports City Stadium during the opening ceremony of the Special Olympics World Games in Abu Dhabi, alongside Canadian pop star Avril Lavigne and Puerto Rican "Despacito" superstar Luis Fonsi.
Hosny, who has been dubbed the "Star of the Generation," launched his career in the early 2000s as an actor, singer, director, and song writer. His first album was released in 2002 and received the award for Best Selling Album that same year from the Nile Variety channel.
The star's acting career began with "Halet Hob" (Love's Case; 2003). He is known for numerous other movies, including the three-part "Omar & Salma" franchise starring actress Mai Ezz Eldin and "El Badla" (The Suit) starring Amina Khalil, which exceeding LE50 million revenues.
Hosny's foot and hand prints have been engraved at Hollywood's iconic Chinese Theatre in Los Angeles since 2017.
Meanwhile, his video clip "Naseny Laih" reached almost 20 million views on his official YouTube channel in less than two weeks and was at the top of the "most trending videos" list on YouTube within two days, and his anthem "Eish Bshouaak" (Live the Way you Wish) — also the name of his latest album — went viral on social media.
Hosny was among the artists who performed at a 2018 concert in Saudi Arabia attended by prominent Saudi officials, with tickets to the performance selling out just a few hours after the announcement.
Photo credit: Tamer Hosny's Facebook page