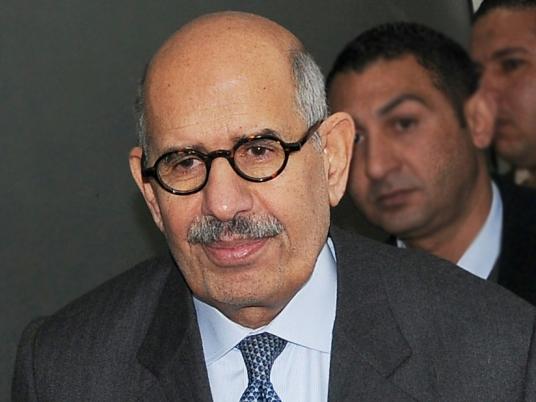 Egyptian reform advocate Mohamed ElBaradei announced on Monday that he is working on the establishment of the Thawra (Revolution) Party, which would be a nucleus for a coalition of the various civil forces to bring together all Egyptians.
ElBaradei said in a statement published by several news outlets that he will be the representative of party founders. The statement made no mention of if ElBaradei is going to head the party when it is approved by parties committee.
State-run Al-Ahram newspaper site said the party would include economist Galal Amin, Professor of International Law Hossam Eissa, Novelist Alaa al-Aswany, Ambassador Shoukry Fouad, political activists Gameela Ismail and George Isaac, as well as certain revolutionary youths, such as Shadi al-Ghazali Harb.
The privately-owned Al-Shorouk newspaper said on Sunday that consultations on the party took two months between activists, political forces and revolutionary youths, and that the founders would hold a press conference in the last week of April to announce more details and invite the public to join the party.
ElBaradei, a former director of the International Atomic Energy Agency, had in February said he would not run in the presidential elections that are scheduled for 23 and 24 May.