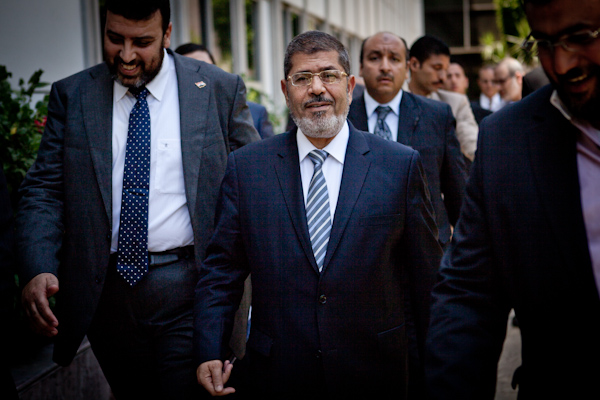 The Muslim Brotherhood's Mohamed Morsy will be Egypt's next president, the Presidential Elections Commission (PEC) announced on Sunday.
Morsy will be Egypt's first civilian president since the foundation of the modern republic.
Morsy took 51.73 percent of the vote, compared to Ahmed Shafiq's 48.27 percent, Farouq Sultan, the head of the PEC, said. 26.4 million of Egypt's 50.95 million eligible voters cast ballots. Nearly 1 million votes were counted as invalid.
The confirmation of Morsy's victory comes a week after the run-off vote between Morsy and Ahmed Shafiq, a former air force commander and the last prime minister under deposed President Hosni Mubarak.
Morsy claimed a victory early last Monday after voting wrapped up.
It is unclear why the delay occurred but the PEC said that they were examining more than 400 appeals of irregularities during the voting. Sultan said the PEC accepted appeals at 100 polling stations. Sultan said that the appeals did not affect the results.
The military and the Brotherhood have been in a public conflict in recent days. The ruling Supreme Council of the Armed Forces (SCAF) has criticized the Morsy campaign for announcing his victory too early, while the Brotherhood have warned against fraud.
Reports have circulated that the Brotherhood was in negotiations with the SCAF over the presidency.
Thousands of Morsy supporters gathered in Tahrir Square, where they have been holding a sit-in protest since last Tuesday. They erupted in joy after the announcement, chanting "Hold your head high, you are Egyptian!"
Morsy's supporters at his campaign's headquarters also chanted in celebration, saying that the blood of the revolution's martyrs has not been shed in vain.
Ahmed Abdel Aty, a Morsy campaign spokesperson, said, "We cannot express in words what this moment means. It is a new birth for Egypt. We thank the Egyptian people and the martyrs."
Campaigners at Shafiq's headquarters were angry, with one woman breaking into tears and another attacking a journalist. One Shafiq supporter suggested that the group march to the SCAF's headquarters.