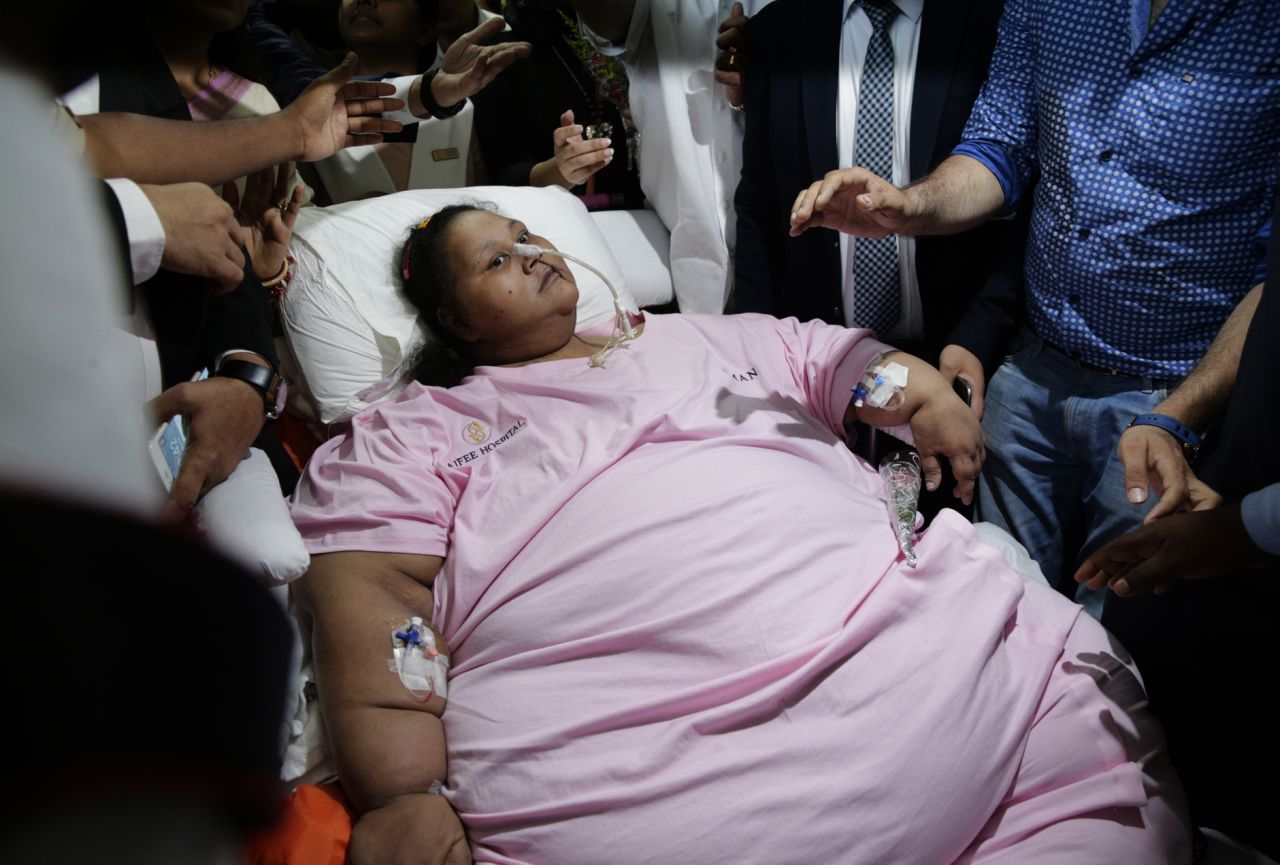 Eman Abdel Aaty's psychological condition and health are progressing well, the director of the Abu Dhabi hospital where the Egyptian woman is being treated was quoted as saying by Emirati al-Bayan newspaper.
"We have reached amazing results in Eman's treatment," said Doctor Yassin al-Shahat, the director of Burjeel Hospital in Abu Dhabi.
Abdel Aaty has started to move her arms and legs and pointing at areas of pain in her body, said Shahat. Abdel Aaty also starting talk with the medical team and asking them for what she wants, he said, adding that she could sit on the hospital bed normally which reflected great progress psychologically and health-wise in her case.
Shahat described Abdel Aaty's case when she first arrived in Abu Dhabi as "miserable".
Abdel Aaty's health and psychological condition were very poor when she first arrived in hospital as we could not even move her limbs. She was suffering from severe depression, especially as she is still suffering from the after-effects of a stroke, Shahat mentioned.
The preliminary examination conducted by the medical team supervising the Egyptian patient's treatment showed that she suffers from deep and contaminated bedsores that need intensive treatment. She also suffers from severe urinary tract infections, as well as a disease not previously announced — a relapse in the aortic valve of the heart, he said. Cardiologists had opted for conservative treatment at this stage.
Burjeel Hospital will take charge of Abdel Aaty's treatment until she reaches a stage that enables her to live a normal life regardless of the cost of treatment, said Shahat, stressing that the hospital will also not hesitate to seek the help of doctors from abroad if necessary.
Abdel Aaty was transferred from India to the UAE due to the unsatisfactory aftercare of a weight-loss surgery.
Abdel Aaty, who lost about 325 kilograms after undergoing surgery in an Indian hospital, left India earlier in May for the UAE for long-term treatment.
A medical team formed of 20 doctors received Abdel Aaty at Abu Dhabi International Airport where was accompanied by "happiness patrols" – police teams formed to spread happiness inside the country – in addition to police and civil protection vehicles until she reached the hospital.
The funds for her travel and medical care were raised through crowd-sourcing, with people from India and elsewhere contributing to her treatment.
The 36-year-old from Alexandria has lymphedema, a condition that causes body tissue to swell. She had a stroke when she was 11, after which her weight gradually increased.