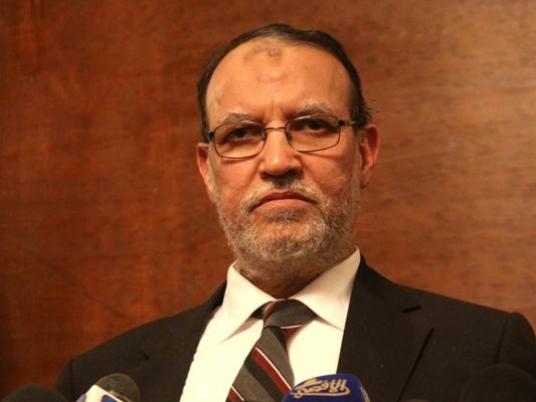 Vice President of the Freedom and Justice Party Essam al-Erian calls for "perpetrators of the coup" to acknowledge their mistakes over the past period and to engage in dialogue based on the roadmap announced by ousted President Mohamed Morsy before he was deposed.
This proposition comes as part of al-Erian's initiative to resolve the current political crisis.
In video footage broadcasted by Al-Jazeera Mubasher Misr on Sunday, Erian said, "Our country is in a real crisis caused by straying from the democratic path to a military coup at a time when all countries have bidden farewell to such coups."
"We are in dire need of raising the values of dialogue, understanding, tolerance and political work and of establishing democratic mechanisms."
Erian said that the first step to resolving this urgent crisis which has destroyed the economy and social coherence is for the perpetrators of the coup to acknowledge their mistakes and the fact that they made a grave mistake by taking the side of one faction.
"Then comes dialogue after we restore confidence in each other by canceling all the invalid procedures that resulted from the coup, releasing all detainees, bringing all those who helped in murder or incited it to fair trial, even if exceptional and revolutionary, and having the president [Morsy] and undermined legitimacy restored to carry on with the roadmap he announced in his last speech."
"The [only] difference between the roadmap announced by Morsy and the one announced by the Defense Minister and leader of the coup Abdel Fattah al-Sisi is that the latter ousted the president, appointed another in his place and suspended the constitution. The rest of his roadmap is identical to the president's–almost a carbon copy of it," said Erian.
Erian also said that Egypt has to be a leading country in the region rather than a follower to every country that pours in billions in aid money. "Egypt should not be dictated by orders from Europe or the US," he added.
In his last speech, Morsy had called for the formation of a coalition government and the amendment of the Constitution. He had also said he would expedite the parliamentary election and form a supreme committee for national reconciliation.
He did not, however, tackle calls for early presidential elections.
The Armed Forces roadmap, meanwhile, included amending the Constitution and electing a parliament and then a president within nine months of the election. This roadmap, announced on 3 July, was followed by the issuing of a constitutional declaration by interim President Adly Mansour which dissolved the Shura Council. Interim President Mansour had been appointed by the army.
Edited translation from Al-Masry Al-Youm