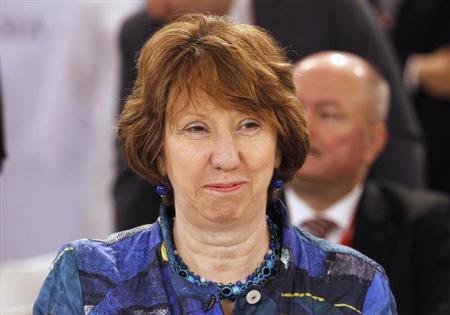 Political communication between the European Union and political players in Egypt, including the Muslim Brotherhood, are ongoing, according to Michael Mann, spokesperson for the EU's top diplomat, Catherine Ashton.
In statements published Saturday, Mann told the pan-Arab, London-based Asharq al-Awsat newspaper that Ashton had met with representatives of the Muslim Brotherhood and its political arm, the Freedom and Justice Party, during her recent visits to Cairo, stressing that contacts are continuing with all political groups.
He noted that the EU is prepared to participate in overseeing the next presidential and parliamentary elections to ensure compliance with international standards.
Mann added that contacts are also ongoing with Cairo for the EU's participation in monitoring the referendum on the new constitution currently in the works.
As for the trial of former president Mohamed Morsy, Mann said the EU is closely watching the process which, he hoped, would be conducted fairly. He said the EU still demands the release of political prisoners, especially those held without charges, urging for commitment to the legal track when charges are filed.