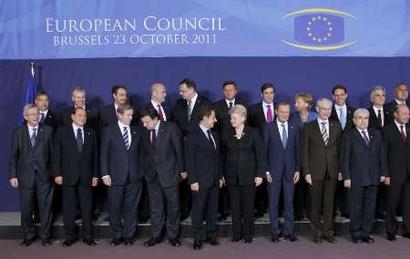 As the country struggles to discern its political and economic future, Egypt is coming under greater pressure to advance its free trade agreements.
The European Union announced in December that it is beginning talks about extending its free trade agreements with Egypt, Jordan, Morocco and Tunisia.
But, these talks have prompted criticism from civil society groups in Egypt and throughout the region. Critics say that these economic ties would only further damage an already battered economy and result in long-term economic injustices.
According to a 14 December EU press release, the future agreements would establish "deep and comprehensive free trade areas," and would construct new regulations for the Egyptian economy.
"The opening of trade negotiations aims at improving market access opportunities and the investment climate in Egypt, Jordan, Morocco and Tunisia," it said.
Egypt has one of the largest markets of urban consumers in the region. If large European companies were given unfettered access to the market, it could mean huge profits for them.
But history of free trade shows that the arrangements could devastate small businesses and producers and breed unemployment in Egypt and the other countries.
Civil society leaders and activists say any such agreements are a continuation of old polices and would only hamper the country's economic growth and health.
In a 24 January letter addressed to the Egyptian government and the European Parliament, 14 regional rights organizations said that the trade talks could represent "a backlash against democratic transition processes in the Arab Region."
"Support for economic growth should be rooted in support of people's choices and a revised economic model, where productive capacities, redistribution mechanisms, employment and wages take forefront," said the letter.
Continuing with such agreements, its signees said, would mean continuing with greedy policies of governments that imposed top-down economic reforms that never actually benefitted most Egyptians. They say the lack of transparency around the talks and that they are with Egypt's interim and not-elected government means that any emerging agreements will not have popular legitimacy as well.
"The Arab Spring showed that the global financial system is not working anymore," said Noha El Shoky, a development specialist and member of the Popular Campaign for Dropping Egypt's Debt, one of the signatories to the letter.
Though Egypt experienced economic growth in the past five years, she said, average citizens saw little of that wealth.
"Nothing was trickling down to the people," she said. "We need to change our policies, not just in Egypt, but everywhere else."
The European negotiations would center on the existing treaties made through the World Trade Organization, and policies signed under former President Hosni Mubarak, known as the Euro-Mediterranean Association Agreements. The arrangements are based on the capitalist principles that as barriers to markets fall, trade and wealth increases on both sides.
Egypt, a WTO member since 1995, has been implementing free trade areas with the EU through the Euro-Mediterranean Association Agreements in recent years.
These Euro-Mediterranean agreements, which cover trade in goods, also entail liberalization of agriculture, processed agriculture or fisheries, as well liberalization of trade in services and conformity assessment of industrial products, according to the EU. They also are predicated on the establishment of an international bilateral dispute settlement mechanism for trade matters.
Egypt has also for years labored to get a bilateral free trade agreement with the United States, which is seen by many developing countries as a stamp of approval on their economic and political status. US officials withheld it under Mubarak, citing political freedom and human rights violations. It remains to be seen whether the United States will bestow it on the Egypt's emerging government or renew talks about the issue.
Minister of Trade and Industry Mahmoud Issa, who is negotiating with the EU and the US, made a trip in January to Washington, during which he discussed the future of bilateral trade between the two countries.
Egyptian officials have repeatedly shown enthusiasm for both EU and US free trade agreements. But what really emerges, critics say, is that only one side really benefits from the relationship.
Though largely touted as beacon for development, globalization and prosperity, free trade policies have been shown to pose dangers in the past, especially between economies in different developmental stages.
Large and heavily industrialized economies, for example, can mass-produce a product such as shoes for very cheap. In more localized economies, the production of shoes might employ more workers and provide important jobs.
Once the two are allowed to trade freely, the mass-produced shoe will be cheaper, even in the smaller economy, and consumers will choose it instead of the often locally made, potentially higher quality shoe. The local shoemakers and cobblers will be out of jobs, which will set back the economy far more than the few cents consumers save buying the foreign made shoes.
Examples in recent history can be found in South and Central America, were the North American Free Trade Organization opened up the trade of United States corn with its southern neighbor Mexico. Corn, subsidized by the US government, was one of the first products to cross the border. Mexican corn farmers couldn't compete with the prices, and the agriculture industry, which employed a large portion of Mexico's population, was decimated.
South Africa also saw Free Trade policies offered after colonialism, to the detriment of the growth of its own economy.
What's essentially wrong with free trade, most critics say, is that it doesn't create jobs.
European Union reports on the impact of its agreements have shown negative outcomes of free trade, particularly for less-developed economies that take part in the agreements.
In an assessment on the impact of free trade in the region, a 2007 report issued by the EU found that Egypt and other Mediterranean countries saw increased unemployment and decrease in local industry after the policies were implemented.
Without the installment of certain "mitigating measures," the report found that there had been "a significant short term rise in unemployment, which could continue into the long term" as a result of the free trade setup. The report found that industrial products and agriculture industries were most heavily hit.
Other side effects included a drop in wages as a result of unemployment, government revenues, and a drop in the standard of living of rural women, who lost their livelihoods because of farm mechanization.
The report also stated that there had been a "greater vulnerability of poor households to fluctuations in world market prices for basic foods," that ensued following the implementation of the policies.
As Egypt faces a currency crisis, budget deficit, and significant decrease in tourism revenues, and already rising domestic food prices, exposing the country's poorest to world market fluctuations could plunge them further into poverty.
And these effects, which would be detrimental to any economy, could wreak havoc on Egypt's, which is already suffering from investment withdrawal and tourism drought during the political transition, activists say.
What's more, the talks are being conducted in arenas out of the public eye, with little media coverage and in language that an average laborer would not understand. But it's the small shop owner and factory worker that will feel the effects of the policies first in Egypt, as they have in other countries, said Bruno Ciccaglione, coordinator of the Seattle to Brussels Network, an international organization that opposes "corporate globalization."
"These kinds of trade agreements are responsible for the global economic crisis," he said. "They do not serve the interests of the Egyptian people. On the contrary, they proved to be very useful to serve the interests of the big transnational companies that operate in Europe."
But why are talks re-emerging now?
The European Union has opened talks with these countries one-on-one, according to Ziad Abdel Samad, executive director of the Arab NGO Network for Development, one of the signatories of the 24 January letter, because the international negotiations through the largely criticized and conflict ridden World Trade Organization have failed.
The European Union should respect that now is a sensitive time for Egypt and Tunisia in particular, and hold off on any agreements until a new constitution and government are formed, he said.
Abdel Samad's opinion resonates especially considering the precedent of free trade in Egypt. The 1995 free trade agreements made between Europe and the Mediterranean zone were largely aimed at protecting foreign investors rather than Egyptian workers, Abdel Samad said.
"They did not lead to improving the living conditions of the people, and it did not protect human rights," he said. "We don't need to follow the same model, we need to assess the gaps and then try to include them in new agreements."
Europe may have a self-serving purpose in going after free trade arrangements now, according to Ciccaglione.
He said that the EU might be motivated to seek wealth and resources elsewhere as its economic forecast grows increasingly bleak. Because of the crisis, European investors are after Egypt's resources, he said.
"This makes the economic elite even more aggressive in their strategies," he said. "They are well aware that the biggest part of economic growth in the future will be produced in the global south and emerging economies. And they know if they want to remain a center of the global economy, then they have to grant their investors key raw materials for the future."