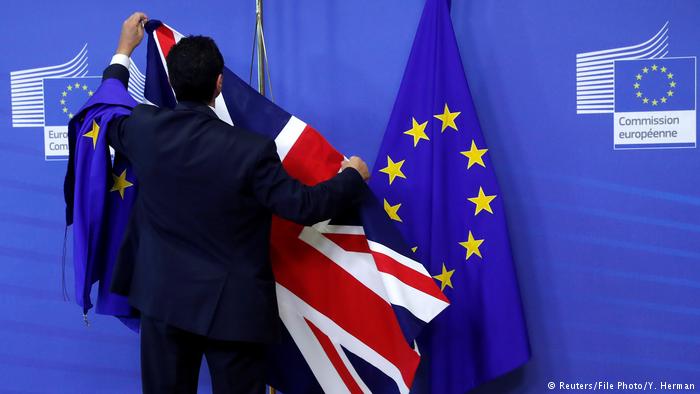 Former UK Prime Minister Blair has warned British voters time is running out to stop Brexit. An overwhelming majority of Labour members — although not their leaders or many voters — share his wish for a Brexit reversal.
Tony Blair's evaluation of the opposition Labour Party's Brexit strategy was set out in an article published on Thursday on his Institute for Global Change website in which he called for the party to join the fight to keep the UK from leaving the European Union.
Blair said Labour leader Jeremy Corbyn wants to have his "cake and eat it" on Brexit.
"Labour's position is confusing," Blair said, adding it would be far better if the Labour Party made the case that leaving "isn't and never was the answer."
"Make Brexit the Tory [ruling, Conservative Party] Brexit," Blair said. "Make them own it 100 percent. If Labour continues to go along with Brexit and insists on leaving the Single Market, the handmaiden of Brexit will have been the timidity of Labour."
Blair, prime minister from 1997 to 2007, said Britain would be poorer and weaker after Brexit. "We are making an error the contemporary world cannot understand and the generations of the future will not forgive," he said.
"2018 will be the last chance to secure a say on whether the new relationship proposed with Europe is better than the existing one," he added.
Blair said in December he would seek to reverse Brexit, arguing that voters deserve a second referendum because the "
£350 million (€390 million) per week for the NHS" promise has now been exposed as untrue.
"When the facts change, I think people are entitled to change their mind," said Blair.
"The will of the people is not something immutable," he said, adding that there was "a significant group of people," particularly Labour voters, who backed Brexit due to economic and cultural worries.
Labour members in tune with Blair
Eight out of 10 members of the Labour Party want a referendum on the terms of Brexit, according to a survey of attitudes released on Thursday.
The survey, conducted by Mile End Institute at Queen Mary University of London, also showed that 49 percent of Labour members definitely want a second referendum on the exit deal and a further 29 percent said they were more in favor of the idea than against it.
But 18 months after voting 52 percent to 48 percent to withdraw from the EU, Britons remain divided over leaving the bloc.
In December, one survey showed 50 percent of voters supported a second referendum while 34 percent did not.
Labour in a bind
Corbyn's stance on Brexit has gained in significance since last June's general election that saw his party perform better than expected.
At the election Labour's "constructive ambiguity" was seen to have won votes from EU Remainers and Leavers alike.
But after the vote Corbyn – a reluctant Remainer during the 2016 referendum campaign – appeared to move toward a harder position, sacking three frontbenchers for backing a parliamentary amendment saying the UK should remain in the single market and customs union.
Corbyn has expressed concerns that a commitment to the single market could limit a Labour government's room for manoeuver, with state aid for companies a concern for the left-leaning politician.
But Labour Shadow Brexit Secretary Keir Starmer has since said Labour wants "full participation" in the single market and the "full benefits" of the customs union. It would also consider paying for market access and the "easy movement" of people.
John McDonnell, the shadow chancellor and a euroskeptic, now said Labour could stay in "a reformed single market and a customs union."
Deputy leader Tom Watson refused to rule out another referendum last Sunday, but three of his shadow cabinet colleagues insisted it was not Labour policy.
Blair is highly unpopular with Labour members mainly over his role in the invasion of Iraq in 2004. For Corbyn's supporters, the former prime minister also represents a betrayal of what they consider should be Labour's commitment to more radical left-wing policies.
Conservatives in a bind
Current Prime Minister Theresa May's Conservative minority government has dismissed the idea of a second referendum. But her fragile hold on power is unlikely to be strengthened by the slew of Brexit negotiations slated for 2018.
The government was forced in December to give parliament a greater say in the Brexit process than it initially wanted after members of May's own party rebelled on the issue.
The UK's planned EU exit is scheduled to take place on March 29, 2019.